Although the fashion industry keeps trying to dictate what we should be wearing, our lifestyle and our style of dressing has changed over the past 2 years. Comfy, flow-y clothing has dominated our stay-at-home and work-from-home wardrobe. Now, as we venture out again, we may enjoy keeping the loose and relaxed look with clothes that are roomy in the shoulders and arms, don't bind at the hips and tummy, and may have elastic at the waist for a little bit of breathing room.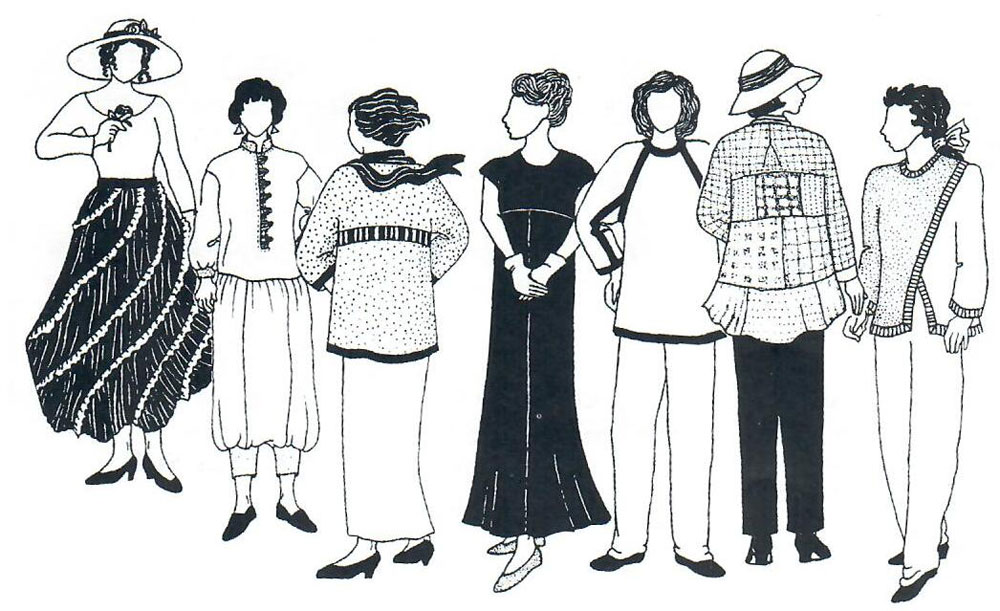 Soft, easy dressing means wearing clothing that is not fitted or tailored, but certainly not sloppy either. They are clothes that are long enough to cover our knees when we cross our legs and are made from fabric that moves when we walk. To achieve this style without looking sloppy, there are a few rules to follow:
Patterns
Select a pattern for garments that are not tailored or structured and don't require precise cutting or measuring. Choose patterns with few pattern pieces and lots of built-in ease. Some patterns you may find have ease that can be increased or decreased according to your personal taste and the fabric you choose. The amount of ease you may find comfortable will vary with each pattern company and pattern design. To hold to the soft, easy dressing style, choose patterns designed for comfort and room.
Fabric
When shopping for fabric, focus less on fiber content and more on how the fabric feels. Remember that it's the weight and movement of the fabric that's important, not the fiber content. If you are shopping in person (which will be very helpful), touch the fabric. Move it through your hands and over your arms and watch how it drapes and falls. Be realistic when making your selection. If the fabric doesn't move and bounce, then it is probably too stiff, too heavy, or too crisp for this soft, easy, relaxes style of dressing. Make sure it feels good against your skin and will give you an "ahh" moment when you put it on.
Sewing
When sewing with soft fabrics, don't put too much tension in the stitching.  Soft fabrics need to move — if the seams are too tight, they will resist movement and you won't get the flowing, comfortable look you are after. Finish the seams after sewing so they won't ravel and cause the garment to wear out before its time. Basting is a help when working with soft, moving fabrics. Use twill tape where needed (such as in the shoulder seams, etc.) to prevent stretching and to help stabilize the seam.
Most soft fabrics don't take a crease well and, therefore, the seams don't always lay flat when pressed. To help control this, try top-stitching the seams. This also adds a little extra touch of detail to the garment. Try hemming your soft garment by machine and edge stitch for both extra control and a bit of extra weight.
Roomy, comfortable clothes do have fit and shape — they are just not a tight, tailored fit. The neck opening should not bee too large and the shoulders and sleeves should fit your body. Drop shoulders are a common design of this style; however, you don't want the shoulder to hit you at the elbow so adjust as needed. Note that there is usually not a bust dart in this style of clothing. If you are larger than a "B" cup, consider adding bust darts to help the garment hang better. Hem length is also important with these comfortable designs. Adding length helps balance the look and design of a large, roomy garment.
Last but not least, wear shoulder pads. They don't have to be large (we're not revisiting "those" years)! However, they will give the garment some structure and something smooth to hang from while maintaining visual balance.
---
~Based upon an article from Mary Lou Rankin, Park Bench Patterns.