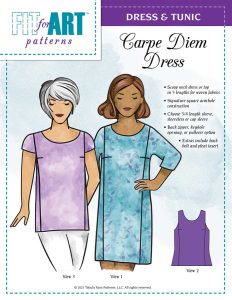 Fit for Art Patterns is introducing its fourth core pattern, the Carpe Diem Dress and Tunic. It features a scoop neckline, natural shoulder, and square armhole construction for woven fabrics. Choose sleeveless, cap sleeve or ¾ length sleeve view. Each view can be sewn in one of three lengths — tunic, above the knee, or below the knee dress — with an optional back belt and pleat insert. Fashion the Carpe Diem loosely to be pulled over the head or more fitted with a back keyhole opening or zipper. Pattern includes AB or CD fronts and straight or flared side panels for customizing the fit in the bust and hips. The instruction book includes design tips for choosing materials, personalizing and finishing your dress or tunic.  Carpe Diem is a multi-size pattern in XS – 3XL, available in print or digital format.
ASG Members can take advantage of our special offer for 20% off the Carpe Diem Dress & Tunic and all other Fit for Art Patterns through Friday, Nov. 26 (EST) with the coupon code found on the Special Offers page in the Members Only area.
The Carpe Diem Dress complements our other core patterns; wear it with a Tabula Rasa Jacket and Eureka! Pants that Fit. Visit the Fit for Art website to purchase the pattern, view the photo gallery of Carpe Diem samples, and find links to great resources in Helpful Hints for Dresses. 
---
This is an advertisement from Fit for Art Patterns