Chances are good that you've got more than one pair of shears and/or scissors in your sewing room. The old standby is a good pair of dressmaker shears, but there are a few other lesser-known varieties that you may want to add to your tool arsenal. These novelties often have a single function, but sometimes they're the best tool for the job.
Cut Ups
Appliqué (duckbill) scissors are perhaps the funniest looking of our scissor choices. They have one large D-shaped blade and one regular blade and are designed to trim close to an appliqué without cutting the fabric base. These scissors are available with either sharp points or rounded points, depending of your cutting confidence.
Pictured: Havels Duckbill Appliqué Scissors
---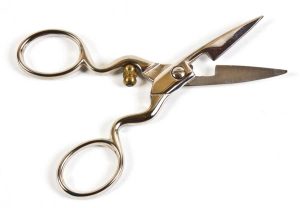 Buttonhole scissors have a screw adjustment that can set the cutting size so that multiple buttonholes are all cut the same length. These replace seam rippers for opening buttonholes and offer a bit more safety than trying to use larger scissors for the opening task.
Pictured: Tooltron Buttonhole Scissors
---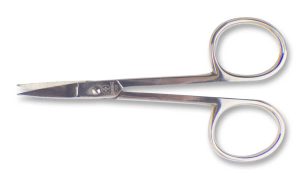 Embroidery scissors are small (3"-5" blades) with very sharp points for cutting threads very closely. Available with straight or curved blades, some embroidery scissors have an antique look with filigree designs or animal shapes, like the heirloom stork scissors.
Pictured: Mundial Embroidery Scissors
---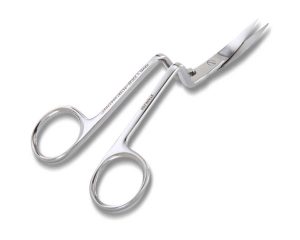 Machine embroidery scissors have curved blades/handles so that you can trim threads closely while the work is still in the embroidery hoop at the machine. Depending on the brand, the handles can be at a right angle to the blades. They're not limited to machine embroidery and can be used anytime you need to trim something close to a surface, like quilting or free-motion stitchery.
Pictured: Havel's Ultimate Curved Machine Embroidery Scissors
---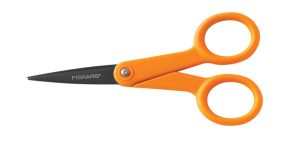 Non-stick scissors have coated blades specifically designed for working with fabrics that tend to stick, like vinyl, laminated cottons, oilcloth and some faux leathers.
Pictured: Fiskars Non-stick Detail Scissors

---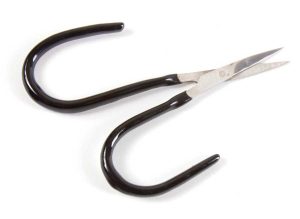 Open-ring scissors have open curved handles (instead of rings), so that they can be used by either right- or left-handed sewers, or anyone with finger or hand issues, as there's extra space for access.
Pictured: Tooltron Open Ring Scissors

---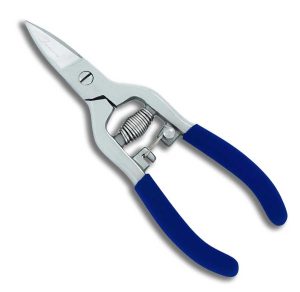 Rag scissors are workhorses designed specifically to cut through multiple layers of fabric at one time, like for rag-edge quilts. Not your typical scissor look, they take on a plier look for more cutting power.
Pictured: Famore Rag Clips

---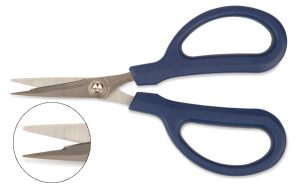 Stitch-cutting scissors have a small hook at one end of a blade to slide under a single stitch and they're ideal for ripping out stitches without damaging the fabric below.
Pictured: Havels Stitch Cutting Scissors

---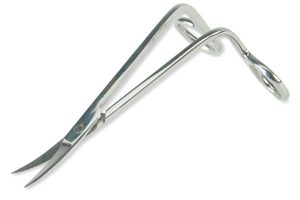 Under-trimmers, like their cousins the machine embroidery scissor, these quirky looking scissors allow for trimming in an embroidery hoop while it's on the machine, but also have the ability and shape to reach under the hoop as well to trim bobbin threads during the embroidery or stitching process.
Pictured: Tacony Undertrimmer Scissors

---
Close encounters

Snips: In addition to this grouping of novelty scissors, don't forget the ever-handy nippers, snippers, thread clips—the names differ, but the function is the same. Their small, spring-action blades make trimming threads easier than ever.
Pictured: Gingher Featherweight Thread Snips
---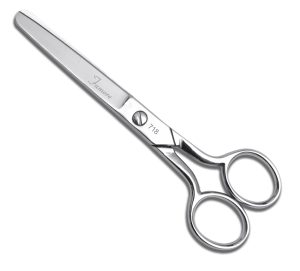 Kids: If you're teaching sewing to kids, look for blunt-tip safety scissors to prevent major accidents with sharper pointed scissors.
Pictured: Famore Blunt Tip Scissors
---
~Linda Griepentrog
Linda is the owner of G Wiz Creative Services and she does writing, editing and designing for companies in the sewing, crafting and quilting industries. In addition, she escorts fabric shopping tours to Hong Kong. She lives at the Oregon Coast with her husband Keith, and two dogs, Yohnuh and Abby. Contact her at .