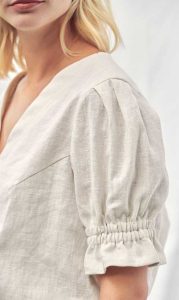 We all know the convenience of elastic—it allows us flexibility around the waistline for that extra helping of dessert and also holds up our undies in style. But there are so many types of elastic it's hard to know which one to choose for what. Some elastics are hidden inside casings, while others show themselves with aplomb.
So, let's talk about this supreme stretchiness and some elastics that may be new to you.
Elastic Types
For encased stretch, look for braided, knitted or woven elastics. They come in a variety of widths starting at 1/8", depending on their use. You can purchase elastic by the yard or in pre-cut, packaged lengths and usually only in black or white. Braided elastic gets narrower and curls as it stretches, while woven and knitted elastics hold their width during sewing and wearing. Braided elastic looks ribbed due to its construction process and should be used in casings only, not sewn through, as it easily distorts.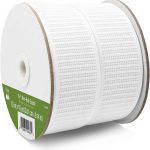 Non-roll elastic is woven with extra ribs to help it hold its shape and to prevent twisting. It's ideal inside waistband casings.
Pajama elastic is a soft, lightweight woven elastic, designed to be used against the skin, like at the waistline of your favorite pj's, as the name suggests.
Clear elastic is an extruded product that can be stretched up to three times its original length. Also available in a variety of widths, you'll find this sometimes used for bra straps to create an invisible look, in swimsuits and often to stabilize shoulder and neckline seams in knit garments. It's easily sewn through without distorting and you can even cut it along the length if a narrower piece is needed—there's no raveling. The serger knife can easily trim it during application.

Plush-back elastic is made to be seen. It's applied to waistlines, sleeves and leg openings in lingerie with the soft fuzzy side toward the body for comfort.
Picot-edge elastic has a looped edge that extends decoratively beyond the garment edge when the elastic is applied. Look for it on lingerie and sometimes on childrenswear as a neckline or armhole finish.

Ruffle-edge elastic has a woven in ruffle that extends beyond its edge(s). Single-edge ruffles can be used like picot-edge elastic, and double-edge ruffles are often used for straps, belts or pony-tail holders.

Fold-over elastic is made specifically for finishing the edge of knit or woven fabric. A special channel down the center creates a built-in fold line to encase a fabric edge. It can be applied with a 1:1 ratio or with a slight stretch to help ease a neckline or other curved edge, while still maintaining flexibility. This elastic is available in myriad solid colors and prints, and it's often used for binding infantwear edges.

Round or oval cord elastic looks like a very large thread. These are ideal for small areas that benefit from stretch, like button loops, mask earpieces, jewelry making, etc. Round elastic can also be used for flexible gathering—just zigzag over it, being careful not to catch the elastic, then pull the elastic to the desired size and tie off.
Elastic thread is a stretchable thread. Sewing parallel lines with elastic thread in the bobbin and matching fabric colored thread in the top creates a shirred look that can be adjusted as desired.
Buttonhole elastic is woven with evenly placed slits in it to match buttons. When used to back a waistline, it creates size options—especially handy for maternity wear or children's clothing.

Gripper elastic has silicone on the wrong side to help keep garments in place when the silicone is placed next to the skin. Look for this type of elastic in bike shorts (along the leg hems) and in evening wear bodices to help keep them from slipping out of place. Available in multiple widths and colors.

Novelty waistband elastic is wide and designed to be seen. It comes in myriad colors, some metallics, and also with stripes woven into it. This elastic is applied to the outside of the garment in lieu of a waistband. It can also be used for belting.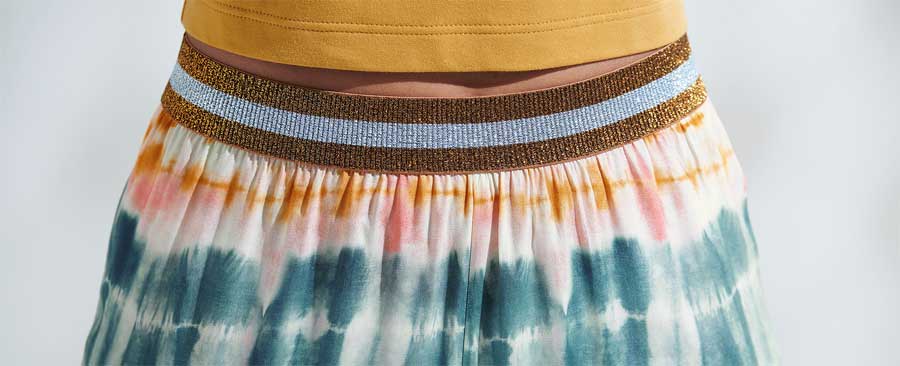 Drawstring elastic offers a built-in cord down the center that can be pulled and tied to snug up the fit of pants or shorts at the waistline. The cord is embedded in the elastic as it's constructed and is accessible as this elastic is applied directly to the garment wrong side, not inside a casing.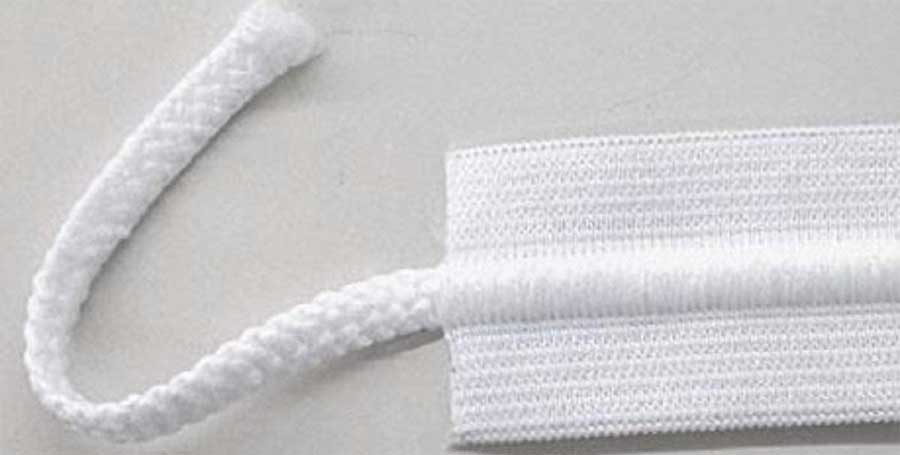 Swimwear elastic, available in narrow and wider widths, is made to withstand chlorine and salt without damage to it. It's used in the legs, armholes and neckline of bathing suits. Regular elastic is damaged by exposure to pool chlorine and will rot.
---
~Linda Griepentrog
Linda is the owner of G Wiz Creative Services and she does writing, editing and designing for companies in the sewing, crafting and quilting industries. In addition, she escorts fabric shopping tours to Hong Kong. She lives at the Oregon Coast with her husband Keith, and two dogs, Yohnuh and Abby. Contact her at .