Run, Run… Table Runners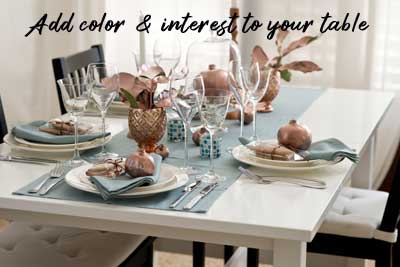 A table runner can be used to add color and interest to any part of your home décor, showcase a display of collectibles, or it can be used simply to protect the dining table surface. You get multiple functions in one! A runner can even be used over a tablecloth to double the decorating punch.
Runners can be as simple as a length of fabric with both edges fringed—a perfect project for kids to make, or they can be more elaborate as a canvas for stenciling, stitching, piecing and quilting.
Don't limit the use of a runner to an eating table—they can also be used on dressers, coffee tables, buffets, breakfast bars, atop shelving units and other flat surfaces.
Fabric
Fabric for runners runs the gamut from burlap for a casual look to velvet, brocade, organza or sequins for a more elaborate occasion. Runners can be single layer, or combined with batting and backing to offer more protection to the table surface. If the runner goes on a patio table, consider a laminate, oilcloth or other outdoor fabric.
Edge Finishes
Edge finishes can be simple fringe, applied trim, binding, lace, piping or narrow hems. Or, for a reversible look, make each side different with encased edges. It's easy to combine Thanksgiving and Christmas in one double-sided runner.
Runner Ends
Runner ends can be pointed, round or square. Because runners can be shorter than the table length, the same length or longer with a generous drop, there are creative opportunities for end finishes. Tassels, beads or decorative fringes are often added for weight if the runner extends beyond the table length.
Table runners can be used to dress any table shape, from rectangular to circular. On rectangular tables, they can be placed lengthwise down the center, at one end or crosswise. Multiple crosswise runners can double as placemats. Runners can also be combined both lengthwise and crosswise on a table, visually connecting diners.
Use coordinating fabric to make napkins to accent your runner.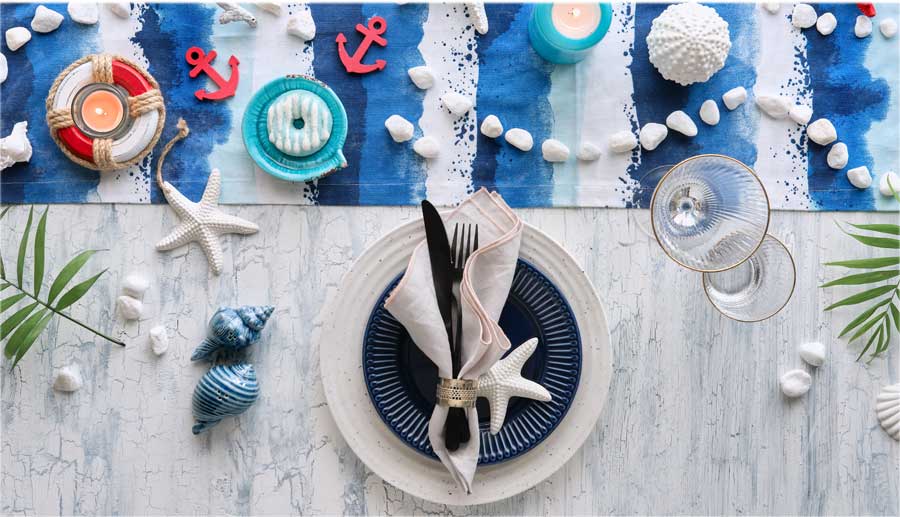 Size Wise
So how wide should a runner be? While there are no absolutes and it's purely a matter of preference, the general rule is that a runner should be about 1/3 the width of table if it will be displayed lengthwise. This allows for place settings on both sides without having plates teetering half on and half off the runner. So, for a 48" table, the width should be about 13"-16".
And how long? Again, a matter of preference. If the runner is longer than the table, there should be a 6" fabric overhang on each end. If it's going over a tablecloth, the runner should not hang below the tablecloth edge. It should also not hit the seat of any guests. On a buffet table accent, the runner could go all the way to the floor as it won't interfere with diners.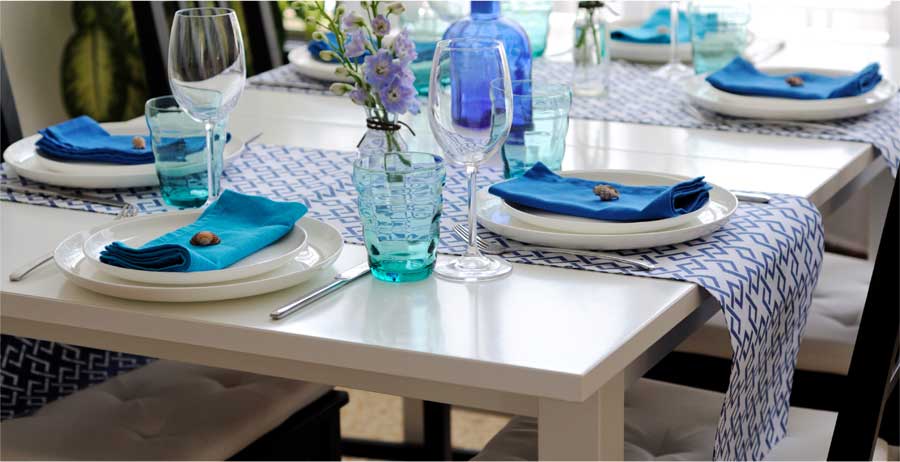 When figuring length, it's important to consider any leaves that might be added to the table, as you might need longer runners if you're adding leaves to increase the table length.
Another consideration for length is family pets (and small kiddos) who might be intrigued with dangling tassels, beads, etc. and opt for pulling the runner off the table surface sending any breakables crashing to the floor.
Runners roll up for easy storage, so plan to make several for different occasions.
---
~Linda Griepentrog
Linda is the owner of G Wiz Creative Services and she does writing, editing and designing for companies in the sewing, crafting and quilting industries. In addition, she escorts fabric shopping tours to Hong Kong. She lives at the Oregon Coast with her husband Keith, and two dogs, Yohnuh and Abby. Contact her at .