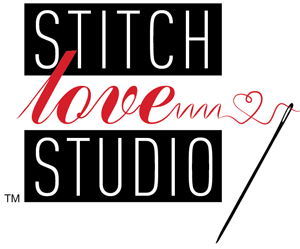 The first word that comes to mind when thinking about bralettes is comfort. The key is "no underwire." From lounging around to dressing up, there are a variety of options and occasions for wearing bralettes.
There are conversations about a certain disappointment after purchasing or trying on a beautiful bralette in a store or online, just to find out that the fit doesn't work. The truth is that many of the ready-to-wear, mass-produced bralettes on the market are less than perfect when it comes to fit– especially for either small or large bra cups. However, with a little bit of interest in embarking on a sewing journey and finding a sewing pattern with a fit that works, bralettes can be made very quickly. According to the materials we choose and how inspired we get, we can end up with our own creation. A word of caution though; making bralettes can be addictive! So be prepared for making a few more for family, friends or even starting your own business venture!

A Bra With Personality
When we think about the versatility of a bralette, a few bralette types come to mind, each one with its own "personality":
The "so comfortable" bralette
The cozy thought of getting home after a long day, changing into a favorite loungewear, removing the underwire bra, and reaching out for the cotton, modal, bamboo, tencel or any other soft fabric bralette to complete the experience. Ready to breathe deeper and sip on a warm cup of tea.
The 'I'm cool" bralette
Made out of unusual materials, usually velvet or even shiny foil prints. These are all different options that will serve as a layering piece, like wearing it under a jacket.
The "romantic or fanciful" bralette
Lace, lace and lace. Also can be combined with stretch meshes or shiny, sparkly fabrics.
The "problem solver" bralette
Tops, dresses or jumpsuits with a low back neck or sheer tops. These are all pieces that can layer on top of a nice lacey, or cool bralette. Any fashion stylist will agree!
The "moody" bralette
It's all about the prints! Tropical pineapple prints, cozy strawberry prints, funky bat prints, cute macaroon prints, superhero prints, dots, stripes, neon colors, pastel colors… you name it, they will all find the right fit.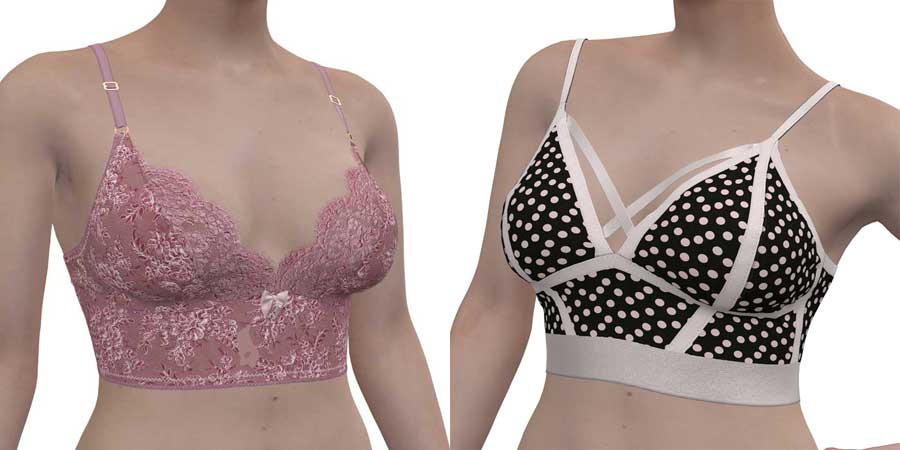 The best news is that all of our bralettes can be made with the same pattern just by changing up the material.
Stitch Love Studio's "Daisy" bralette pattern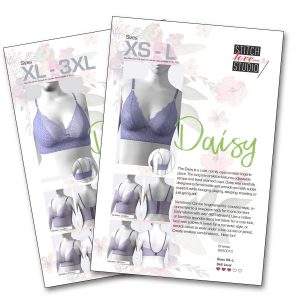 The Daisy is a cute, comfy, easy to make and easy to wear lingerie piece. The long-line bralette features adjustable straps and lined seamed cups. Daisy was carefully designed to be versatile and provide you with subtle support while lounging, playing, sleeping, traveling or just going out.
Instructions include variations for a lengthened version for a bustier style, or can be converted to a one-piece back for more comfort. If using a lower stretch fabric, follow the variation with hook and eye. Use a cotton or bamboo spandex blend knit fabric for a cute look, lace with a stretch mesh for a romantic style, or stretch velvet to wear under a low cut tee or jacket. Create endless combinations and have fun!
The "Daisy" bralette pattern is available in a downloadable, easy to use, PDF chock full of easy to follow instructions, accompanied by colorful clear photos for every step, to guide you along in your bralette journey. Available in sizes ranging from XS-3XL.
As a proud sponsor of the 2021 National Sewing Month celebration, www.StitchLoveStudio.com is offering 20% off their entire line of Stitch Love Studio brand downloadable PDF patterns for ASG members. Visit the Members Only area of the ASG website to get the code.
---
~Stitch Love Studio