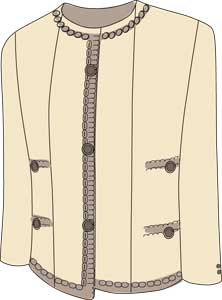 The gilded chain is an attractive, decorative trim on the inside of most Chanel jackets at the hemline, and is one of the most Chanelisms (the term used by the editors of Vogue Magazine to describe distinctive Chanel techniques). The chain is generally made of brass or heavy metal and is used instead of inexpensive lead weights that are hidden between the hem allowance and outer shell in traditional tailored jackets.
The chain is an essential component and plays an integral role in controlling the drape of Chanel's distinctive jackets. Many of these featherweight designs have only two fabric layers — a lightweight fashion fabric and a blouse-weight lining that have been quilted together. They are often assembled without the usual interfacings, underlinings, facings, and linings.
Read more (requires member login)
The complete version of this article is available on the ASG Members Only blog.
CLICK HERE to read the full article. Not a member? Join online!