Some tools/notions used in sewing are not necessarily purchased as "sewing" items. ASG member, Judith Weyl shared some of her favorite innovative notion ideas with us:
Home Improvement Stores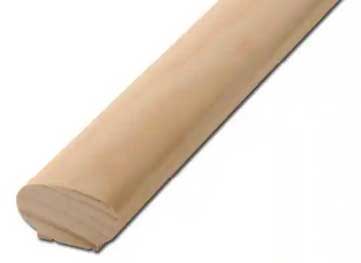 A 3′ Section of Wood Handrail makes a wonderful tool for pressing seams open without leaving an imprint on the garment. It's round on one side and flat on the other, which keeps it from rolling off the ironing board. The 3′ length is great for pressing seams in a pant leg but you could have it cut any length.
Galvanized or Zinc-Plated Washers (about 2" diameter) make great pattern weights. They have a hole in the center and can be stored on a small dowel or hook. Judith rarely use pins to hold pattern to the fabric any longer. An added bonus to using the washers is that they are so thin, you can place an acrylic ruler on top of them along the edge of the pattern and there's enough clearance to use a rotary cutter to glide along the ruler's edge.  Don't stop there though! When Judith made drapes for her dining room, she sewed a small pocket from the lining fabric for each washer and pinned them as weights at the hem of the drapes.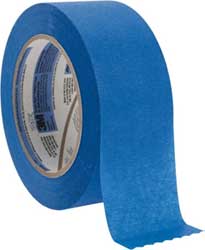 Blue Painter's Tape makes a handy guide for seam allowances. Using a razor, carefully make two deep cuts into the roll about 2" apart and remove the entire cut area which should be about 1/8" to ¼" thick. Place this on the bed of your machine the required distance from the needle. Even if you use specialty feet or attachments, adding the tape gives you a further marking and lets the fabric  ride along it well before reaching the needle. And because it doesn't leave a residue, you can reposition the tape as needed. When it loses its stickiness, just remove the bottom layer of tape to rejuvenate your strip.
Office Supply Store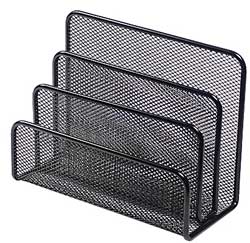 Vertical Mail or File Sorters are great for storing acrylic rulers. Judith says this multi-slotted desktop sorter doesn't have enough slots for all the rulers, but they are still held conveniently in one place.
Supermarket or Drug Store
Toothpicks can be used as shank spacers when sewing on buttons. When sewing a button on by machine, slip a toothpick under the foot directly over the buttonholes before stitching, making sure to hand-turn the wheel to be sure the zigzag stitch is clearing the toothpick.
Wooden Skewers or Chopsticks are excellent for guiding your fabric to the needle and holding that final edge when piecing. You can't get your fingers that close! A bonus is that you can share the extras at your next ASG meeting.

Tweezers are a great tool to help when unpicking a seam. Use them to grasp the cut end of threads and you will easily be able to yank a long thread out of the fabric.  It also helps when clipping or trimming embroidery threads as you can hold the thread with the tweezers and get very close to the fabric.
Other Ideas
We loved Judith's ideas so much, we decided to poke around the house and see if we could channel similar creative-outside-the-box thinking department as she did. Here's what we came up with:
Pipe Cleaners would make a great brush to remove dust and debris from under your presser foot and in the bobbin case. You may want to double it up or even make a loop with it.
A Portable Book Light velcroed or taped (use Painter's Tape to avoid tape residue) to your machine can add some additional light and you can swing the little arm to where you need it.
Velcro Hair Rollers (oh, remember the days?!) would make a great tool for picking up loose threads.
Magnet tape to pick up stray pins.
Thanks so much to Judith for these fabulous sewing room ideas! She advises that when you see tools and notions advertised, look around your home or in non-sewing stores for similar items that are non-traditional but will still serve the purpose.
---
~ Judith Weyl, Greater Lehigh Valley ASG Chapter