Often overlooked because the machine icon doesn't really look like the actual stitch, the triple straight stitch is a fun one, both for utility use and for embellishments. Depending on the machine brand, the stitch may also be called a straight stretch stitch or a backstitch.
On the stitch screen or dial, it appears as three rows of straight stitching side by side. But in fact, that's not how it sews out. Instead, it's really three stitches on top of each other with the needle penetrating the same hole at each end of the stitch. Whether your machine sews it as two stitches forward and one back, or one stitch forward, one stitch back and another stitch forward depends on the brand, but the look is the same—a bold straight stitch.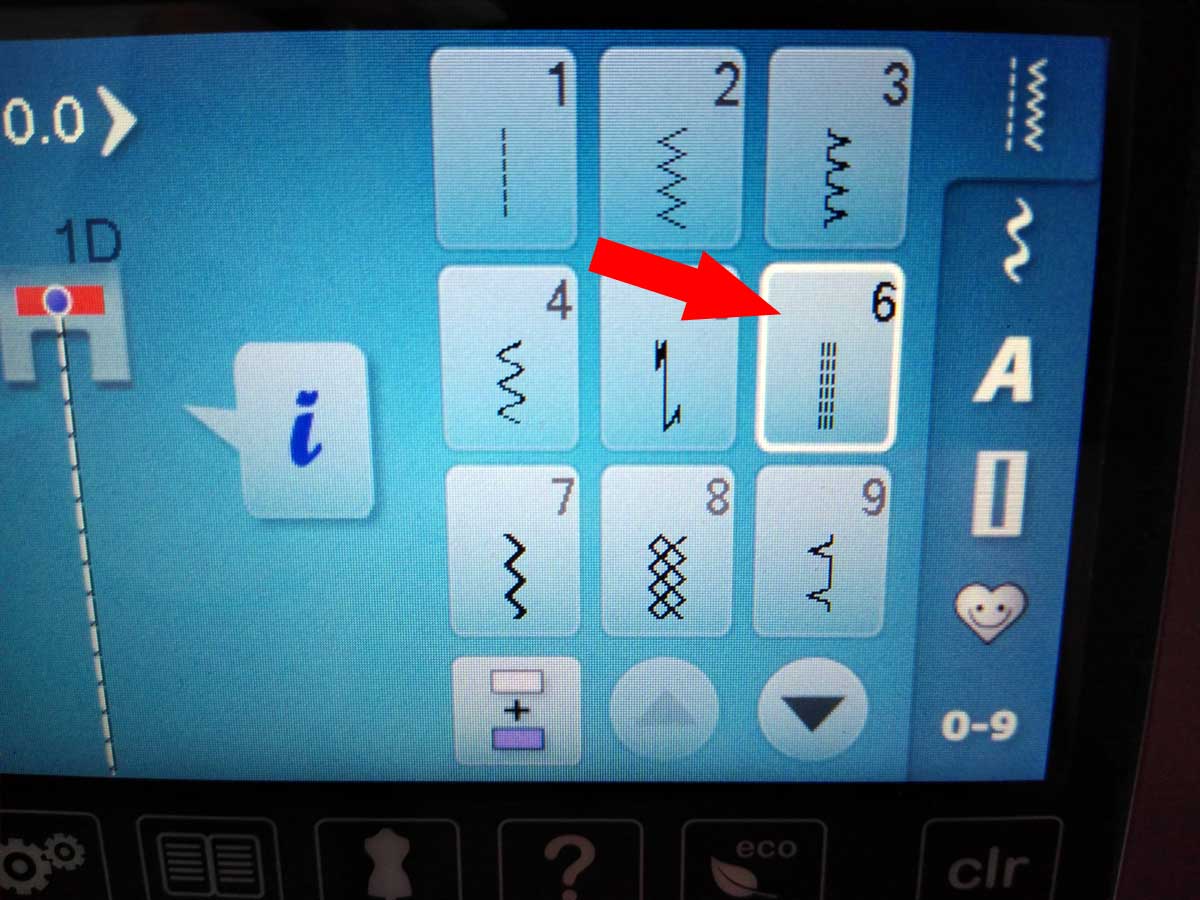 What's it for?
Because the machine is sewing back and forth to create this stitch, there is some inherent stretch built into it. It's great for sewing seams or hems in knit fabrics to maintain flexibility without popping stitches, as often happens with just a regular straight stitch. And ideal as well for use on leggings or swimwear where stretch is needed for fit.
It's also perfect for use where there is extra reinforcement needed, like on tote bag handles, pant crotches, armhole seams, etc. Outdoor gear is another perfect place to utilize this stitch. It's essentially three times as strong as an ordinary straight stitch.
Because the stitches are sewn on top of each other, it still allows you to press a seam allowance open and flat.
With the backward and forward motion of the machine as it sews out this stitch, it's a good idea to slow your sewing speed, using either the speed regulator or a lighter touch on the foot pedal.
Beyond the Basics
Even though its intended purpose is for utility use, this stitch can take on a totally new persona when used decoratively.
Like most machine stitches, you can vary the look by changing the stitch length. While the default length might be ideal for sturdy seam sewing, lengthening it makes it ideal for other uses.
The triple straight stitch is ideal for topstitching. You can sew a well-defined and prominent line of stitches to accent a seam, garment edge or outline an appliqué. Because you're getting three stitches on top of each other, the stitching line appears heavy without having to invest in a heavy weight or novelty thread and a specialty needle. You can simply sew with the same thread you used to construct the garment, or a contrast.
You can even sew this stitch with metallic thread. Or, use a shiny rayon or polyester embroidery thread for a bit of extra sheen. Opt for a variegated thread for an even more interesting look.
When used on denim, the triple straight stitch can mimic the topstitching found on ready-to-wear jeans.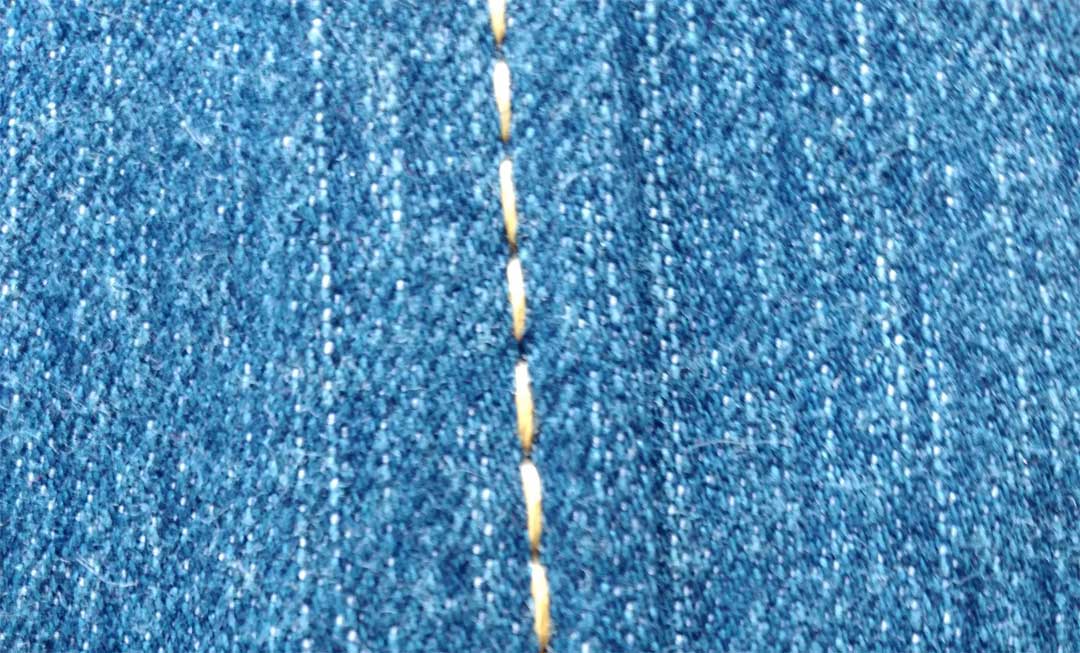 In addition to topstitching, the stitch can be used to create designs on its own—from free-flowing curves to a precise grid, as shown in the photos below.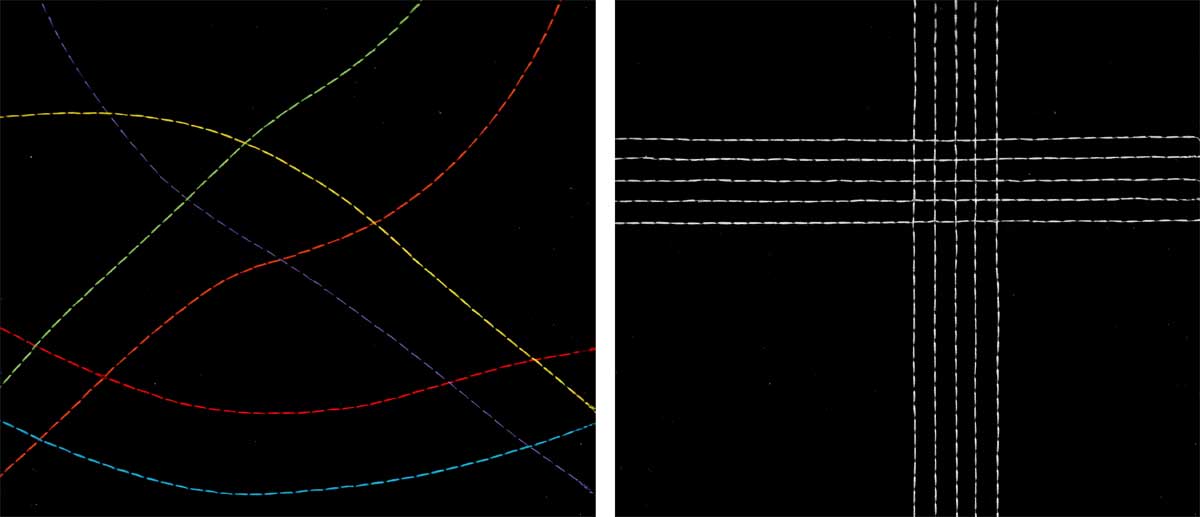 When used with white thread on a dark background, this stitch can look similar to Sashiko stitching. It's also ideal for quilting, whether following the design in a printed fabric for accent or sewing in channels or grids. It can also be used as an outline for pieced motifs, as shown in the next image.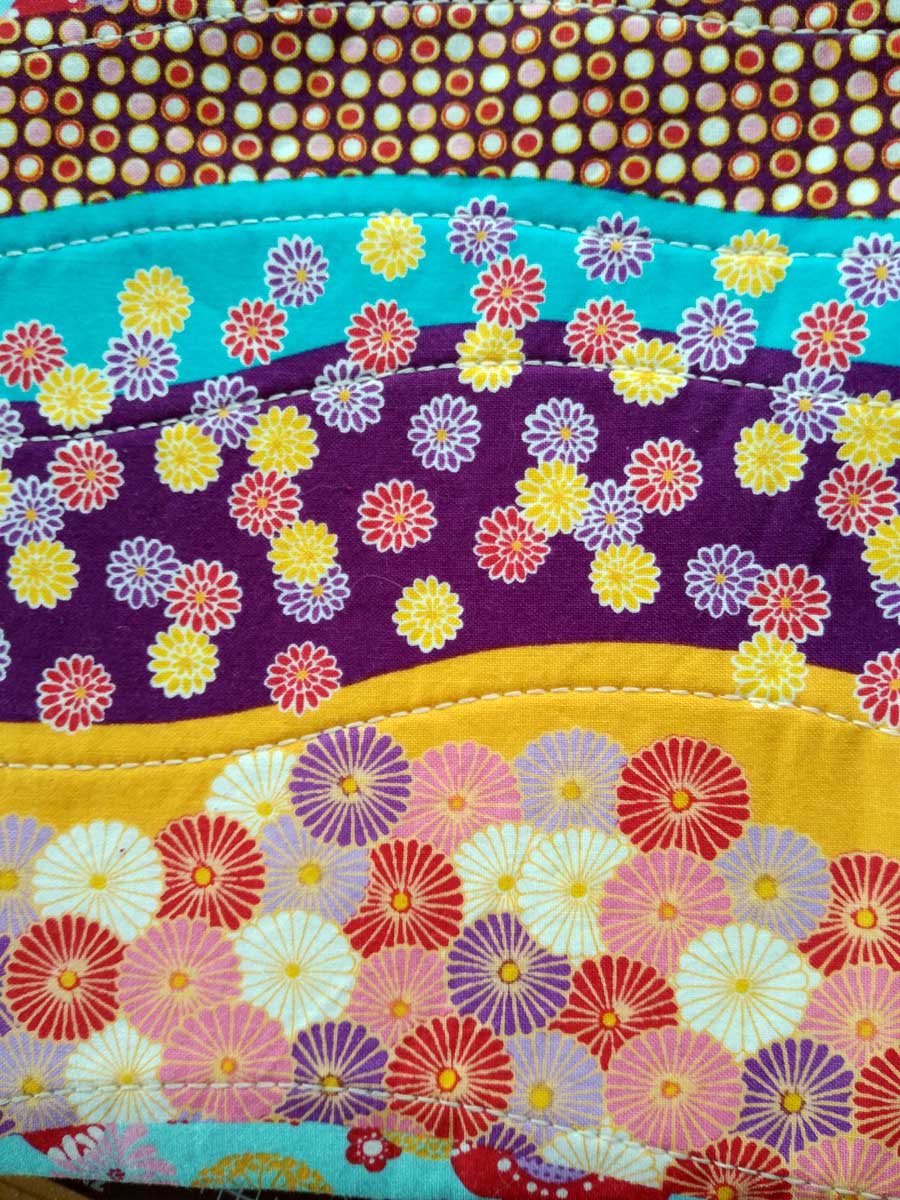 One note of caution: Because the fabric moves forward and backward as it forms this stitch, stick to gentle curves as opposed to tight curves which are harder to control.
And, there's more…
You can sew the triple straight stitch with a double needle to create perfectly aligned stitch lines, or with a wing needle to leave tiny holes often used by heirloom sewers as accents and for attaching other trims. In both instances, it's a good idea to sew slower than normal for consistent stitching.
If you add width to this stitch, you get an entirely different stitch—a triple zigzag—which is great for embellishing as well, as the three threads make the stitch much more prominent than a simple zigzag.
Think you might need a little play time with this great stitch?
---
~Linda Griepentrog
Linda is the owner of G Wiz Creative Services and she does writing, editing and designing for companies in the sewing, crafting and quilting industries. In addition, she escorts fabric shopping tours to Hong Kong. She lives at the Oregon Coast with her husband Keith, and two dogs, Yohnuh and Abby. Contact her at .