OMG—for some of you, the very thought of using glue with any sewing project probably makes your inner home economics teacher cringe! But take a deep breath and consider that it could be a helpful tool when used properly.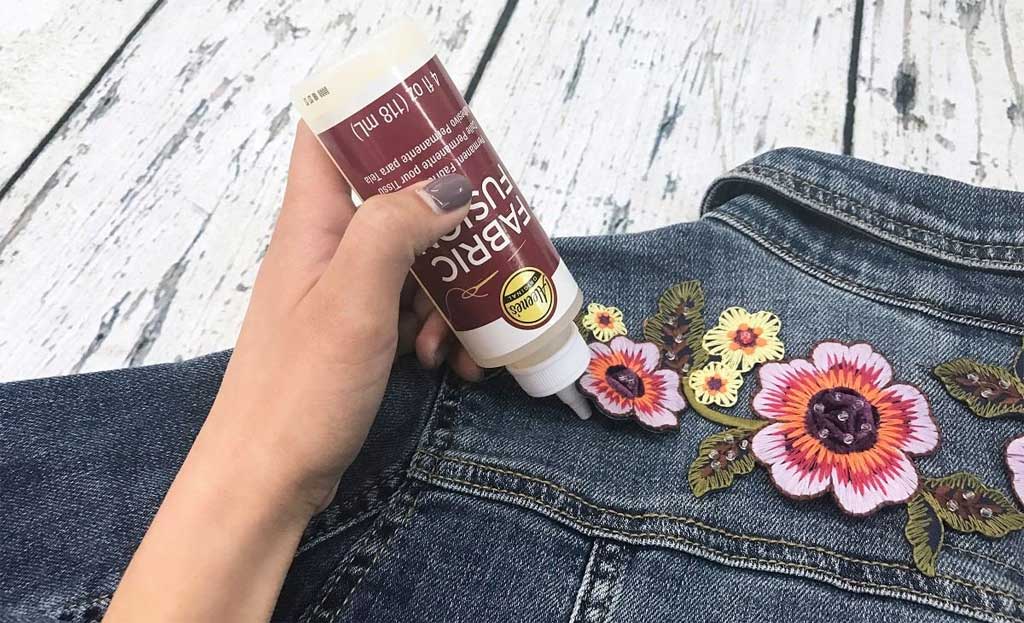 Check Points
There are a number of types of glues on the market, and they're used for very different purposes. Almost all can be helpful for sewing projects, but before you choose a glue, check out these basics by reading the label:
Is the glue suitable for use on porous surfaces like fabric?
Is the glue washable? This can actually mean two things—that the glue is temporary and will wash out, or that it can withstand washing and remain intact, so double check.
Is it permanent or temporary?
How long does it take to dry to the touch and to cure (the time needed for the chemical bonding)?
Is the glue repositionable, so something like an appliqué can be moved from one place to the other? Some glues are temporarily repositionable, then become permanent when they cure.
Does it dry clear and flexible? Flexibility is especially important if you're using it on a knit garment, so that it doesn't crack when the fabric stretches.
Is it non-toxic and acid-free to avoid damaging fabric?
Can you stitch through the glued area without damaging the sewing machine or the needle?
Is it colored, or does it have glitter with the glue for embellishing?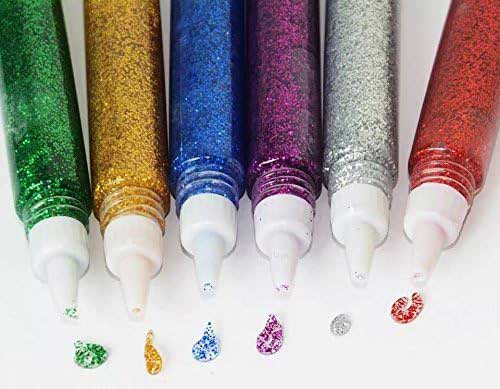 Getting it on
Glues can be applied in a variety of ways. Most come with a narrow tip applicator, but some come with a brush tip allowing for a broader application. Glue pens and sticks are also available, some offering twist-up applicators, and some pens that are refillable. Spray glues are also available for covering larger areas, but be sure to protect your work surface from overspray by covering it with plastic or paper.
For very fine applications, like individual beads or trim lines, look for needle-tip bottles, or apply the glue with a toothpick for precise placement.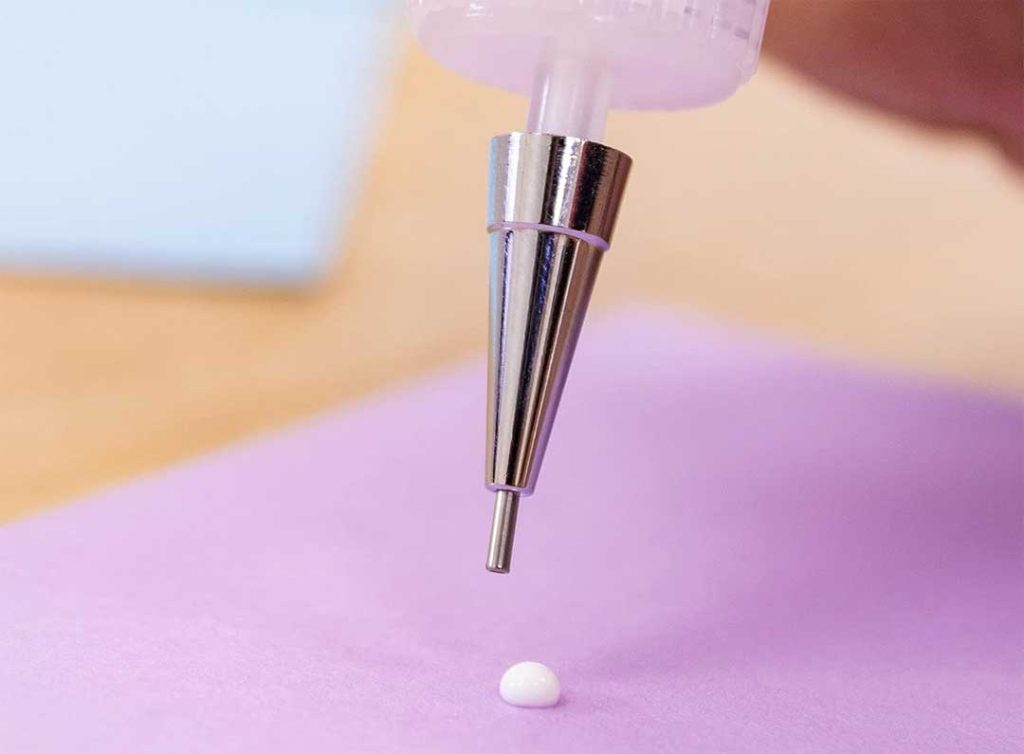 If you're opting for hot glue, a glue gun heats the glue stick for application, and that tool may come with assorted tips depending on what you're using it for. Hot glue is harder to control, but it's ideal for things like home décor uses like fabric headboards, etc. where fabric is being attached to another surface, like wood. But do note that hot glue can melt synthetic fabrics very quickly, so best to use another glue option for those.
Where might you use glue?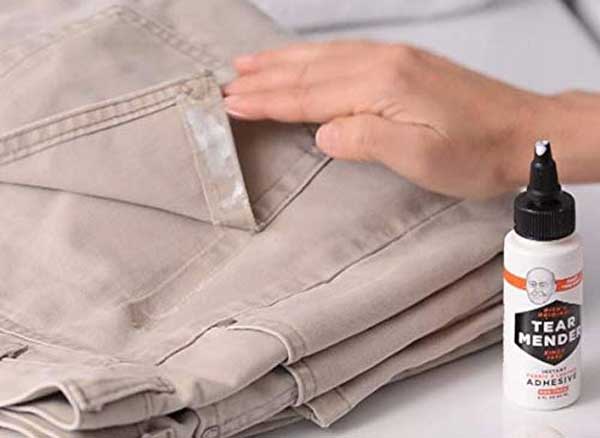 Adding embellishments to fabric items you can't get into the sewing machine, like shoes, baseball caps, sun visors, etc.

Plextone 1 Min Quick Bonding Fast Dry Sew Glue available on Amazon.

Temporary repairs, like a torn pocket or hem, until you can get to your sewing machine.
Holding buttons in place until they're sewn on.
Keeping sew-in interfacings in place. Just put tiny dots within the seam allowances between the fabric and interfacing layers.
Attaching jewels, rhinestones, crystals or beads permanently without the need to sew them.
Applying ribbons or trims, lace and appliqués temporarily (until sewn) or permanently.
Hemming garments made from non-porous fabrics like leather (faux or real) or suede.
Finishing cord ends that tend to fray.
Basting zippers in place for sewing.
Creating temporary appliqués like for seasonal costumes.
Adding glitter or foil to a fabric surface.
Keeping seam allowances from fraying y using a very narrow bead along the edge.
So, before you cringe at the thought of glue for sewing uses, think again—it could be the perfect solution.
---
~Linda Griepentrog is the owner of G Wiz Creative Services and she does writing, editing and designing for companies in the sewing, crafting and quilting industries. In addition, she escorts fabric shopping tours to Hong Kong. She lives at the Oregon Coast with her husband Keith, and three dogs, Yohnuh, Abby, and Lizzie. Contact her at .