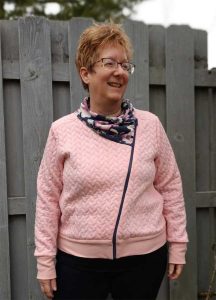 Thank you to Kim Caywood from the Central Illinois chapter for sharing her information on working with the Alba Jacket pattern from Sinclair Patterns. We love this unique jacket. And it looks quite cozy, too!
Q. Item Created 
A. Jacket
Q. Independent Pattern Designer
A. Sinclair Patterns
Q. Name and Number of Pattern
A. Alba Jacket
Q. Fabric Used:
A. French Terry and Quilted Knit
Q. Special Embellishments/Notions Used
A. Zipper
Q. Skill level required?
A. Confident Beginner
Q. Are the instructions easy to follow?
A. Instructions are easy to follow and have step by step pictures. They also have a Facebook group where you can ask questions if you have an issue with construction.
Q. Are you pleased with the finished result?  Did it meet your expectations?
A. I love the way this turned out. I am always skeptical about installing zippers but this turned out great
Q. Did it look like the picture?
A. Yes it did
Q. Did you make any modifications in the pattern?
A. As this was a pattern test, modifications were not allowed
Q. Are there any changes you would have made?
A. I might have used a fabric with less drape for the collar
Q. Did the pattern teach you any unique or special techniques?
A. Inserting an asymmetrical zipper
Q. Would you make this again?
A. I would make this again
Q. Would you recommend this pattern to others?
A. I would highly recommend Sinclair Patterns to anyone. They come in Petite, Regular and Tall sizing and in sizes from XXS to 4XL

Pattern Link: https://sinclairpatterns.com/products/alba-zip-up-knit-asymmetrical-jacket-with-a-cowl-and-side-pockets-pdf?_pos=1&_sid=3c9c05b83&_ss=r
---