Linda Jensen from the ASG Lake County Chapter shares her experience making this great-fitting blouse from Silhouette Patterns.
Q. Independent Pattern Designer
A. Silhouette Patterns
Q. Name and Number of Pattern
A. Alyce Blouse #621
Q. Fabric Used:
A. Stretchy knit, but a wide variety of fabrics can be used
Q. Special Embellishments/Notions Used
A. None
Q. Skill level required?
A. All levels
Q. Are the instructions easy to follow?
A. Yes, they are easy to follow. There is also a YouTube of making the top that is helpful. Be sure you mark all notations of the letters to put it together.
Q. Are you pleased with the finished result?  Did it meet your expectations?
A. I got a blouse that was very different from the usual plain blouse, which is what I wanted.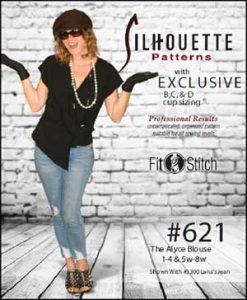 Q. Did it look like the picture?
A. Yes
Q. Did you make any modifications in the pattern?
A. No
Q. Are there any changes you would have made?
A. No
Q. Did the pattern teach you any unique or special techniques?
A. I learned that I needed to use knit interfacing when using very stretchy fabric.
Q. Would you make this again?
A. Yes
Q. Would you recommend this pattern to others?
A. Yes
Pattern Link: https://www.silhouettepatterns.com/html/patterns/p_621.htm
* Pattern found exclusively at http://www.fit2stitch.com/p_621.html
---
~Linda Jensen, ASG Lake County Chapter