Q. Independent Pattern Designer
A. Itch-to-Stitch
Q. Name and Number of Pattern
A. Bonn Shirt/Dress
Q. Fabric Used:
A. Picasso Rayon Poplin in teal
Q. Special Embellishments/Notions Used
A. Superior MasterPiece cotton thread
Q. Skill level required?
A. Advanced beginner or Intermediate
Q. Are the instructions easy to follow?
A. Yes, and they are quite thorough. There are several sleeve variations of long, short, mid-length and flare; this is the long flare. I've made the mid-length also, in a blue rayon print. Have not made the dress.
Q. Are you pleased with the finished result?  Did it meet your expectations?
A. Very pleased. I had a bit of difficulty with the hem this time. I chose to use a rolled hem foot to make it simpler than trying to press 1/8″ double ironed hem with slippery rayon. The result is that the hem has a fluttery look, which mimics the flared sleeve.
Q. Did it look like the picture?
A. Yes, it did.
Q. Did you make any modifications in the pattern?
A. No.
Q. Are there any changes you would have made?
A. I might try it with a straight hem, rather than a curved one, and perhaps add a side slit. If I did that, I would also do the mid-length sleeve and make that hemmed rather than gathered and banded.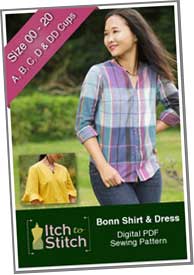 Q. Did the pattern teach you any unique or special techniques?
A. This was the first flared sleeve I've sewn. I like the effect.
Q. Would you make this again?
A. Yes.
Q. Would you recommend this pattern to others?
A. Yes, I would.
Pattern Link: https://itch-to-stitch.com/pattern-release-bonn-shirt-dress/
I purchased the fabric from a store in Missoula, Montana that also has a web site, The Confident Stitch. The online store and their customer service customer are top notch.
---
~Joanne Jensen, Plano Chapter