Charlotte Trayer from the Seattle Chapter of ASG created this roomy, fat quarter friendly tote bag.
Q. Independent Pattern Designer
A. Pink Sand Beach Designs
Q. Name and Number of Pattern
A. #124 Fiji Tote
Q. Fabric Used:
A. Cotton/linen for exterior, Japanese cotton print for lining, other cotton fabric for trim
Q. Special Embellishments/Notions Used
A. A Czech glass bead on the inside, to fasten a strap for my water bottle tote
Q. Skill level required?
A. Medium
Q. Are the instructions easy to follow?
A. The instructions were very easy to follow. It did use some Pellon products with which I wasn't familiar. In the second rendition (in the first tote, I used all cotton fabrics from my stash), I did make one substitution and changed a couple of things about it.
Q. Are you pleased with the finished result?  Did it meet your expectations?
A. Very much so to both questions. I receive compliments whenever I carry either tote.
Q. Did it look like the picture?
A. The first one did as I made it exactly according to directions to test the pattern. The second one is similar, but with changes listed below.
Q. Did you make any modifications in the pattern?
A. I made modifications on my second tote. First, I used a solid fabric for the exterior instead of piecing it as the pattern directs. Then I made the handle a little longer so I could put it over my shoulder. I also added a strap with button/buttonhole to the interior–the strap goes thru the handle of my water bottle tote (which I also made), to hold it upright. Finally, I made a slight change to the spacing of the stitching on the pocket panels so that the center pockets would be a little wider.
Q. Are there any changes you would have made?
A. None, other than the handle length, etc. mentioned above. Although, next time I may add an exterior pocket to the center panel.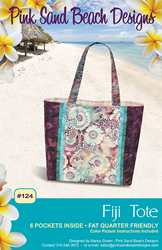 Q. Did the pattern teach you any unique or special techniques?
A. Just working with the Peltex, which is very stiff! Sewing the corners was a bit of a challenge for that reason.
Q. Would you make this again?
A. Probably.
Q. Would you recommend this pattern to others?
A. Yes!
Pattern Link: http://www.pinksandbeachdesigns.com
---
~ Rosemary Fajgier