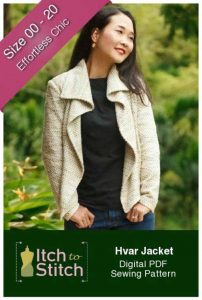 Today, Nancy Nix-Rice from the St. Louis chapter shares her experience sewing the Hvar Jacket from Itch to Stitch.
In Nancy's words…
Although I sew primarily with patterns from the Big Four, I set a challenge for myself to sew a project every day of quarantine, using only fabrics and notions I have on hand. That has pushed me to sample a few indy designers with some great results, like this jacket.
Q. Item Created 
A. Hvar Jacket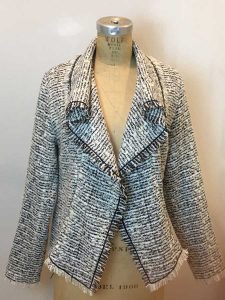 Q. Independent Pattern Designer
A. Itch to Stitch
Q. Name and Number of Pattern
A. Hvar jacket
Q. Fabric Used:
A. Wool and mixed-fiber tweed in cream and black
Q. Special Embellishments/Notions Used
A. 1/8″ satin ribbon
Q. Skill level required?
A. Basic
Q. Are the instructions easy to follow?
A. Yes. I did modify them to suit this fabric.
Q. Are you pleased with the finished result? Did it meet your expectations?
A. I love the finished jacket – tweeds, fringe and cascade fronts are all on my favorites list. And I love that I can wear this dressed down with black denim or dressed up with a winter white ponte sheath dress. It also spans the seasons except true, hot summer.

Q. Did it look like the picture?
A. The styling looks like the picture, but the fabric gave it a dressier presence compared to the more casual example on the pattern.
Q. Did you make any modifications in the pattern?
A. I eliminated the double-layer front/collar in favor of a single layer finished on all the edged by fringing the fabric. Then I continued the fringe around the entire hemline, using the satin ribbon (zigzagged in place) as a "fence" to define the end point for the fringe – especially relevant since some of the edges were not entirely straight grain. (SNEAKY TRICK: because opposite sides of the fabric are visible above and below the roll line, I worked an opening into the weave of the fabric and fed the ribbon through to change sides as needed.) I also used bias strips of black lining fabric to bind all the inside seams.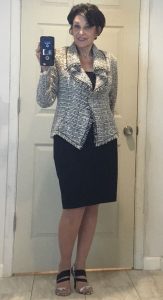 Q. Are there any changes you would have made?
A. I will go back and put a lining into the sleeves because the fabric is a bit scratchy against bare arms, but that really isn't an issue with the pattern.
Q. Did the pattern teach you any unique or special techniques?
A. I learned off-grain fringing in this product, but not fro the pattern directions.
Q. Would you make this again?
A. I will probably make a more casual version as well.
Q. Would you recommend this pattern to others?
A. I would recommend it highly – extremely easy and fast to sew, with great-looking results.
Pattern information: https://itch-to-stitch.com/new-pattern-hvar-jacket/
---
~Nancy Nix-Rice, St. Louis Chapter of ASG