For nearly a year, we have been featuring articles on independent pattern designers and their companies. Now it's your turn to tell us who you are sewing and share your experiences. In this first article, Princeton Chapter President, Joen Venitsky, tells us about her experience making a jacket from Pamela Leggett's collection of Pamela's Patterns. She used a knit animal print which is so popular this year.
If you are an ASG member and have a favorite pattern from an independent designer, we would love to hear from you. Go to the Members Only area and complete the What I'm Sewing pattern review form. We are looking forward to seeing your creations and hearing of your experiences!
What I'm Sewing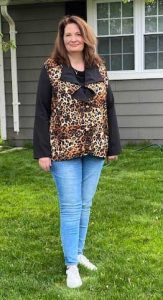 I have attended a number of classes with Pamela Leggett and have loved every one of them. When her new Cascade Cardi or Blazer pattern came out, I knew I just had to try it. I was not disappointed.
Q. Item Created 
A. Jacket
Q. Independent Pattern Designer
A. Pamela's Patterns
Q. Name and Number of Pattern
A. #121 Cascade Cardi or Blazer
Q. Fabric Used
A. Ponte Knit
Q. Special Embellishments/Notions Used
A. Gold Button and Interfacing
Q. Skill level required?
A. Intermediate to Advanced Beginner
Q. Are the instructions easy to follow?
A. Yes, Pamela's Patterns have great fitting and pattern adjustment tips to help you get the perfect fit. The pattern includes a full bust pattern piece, which I used and was happy I didn't have to do a full bust adjustment. You Tube video references are also included throughout the instructions for certain pattern details.
Q. Are you pleased with the finished result?  Did it meet your expectations?
A. Yes, I was very pleased with the results and how the jacket looked.
Q. Did it look like the picture?
A. I believe it did with the exception of the contrasting sleeve and collar detail.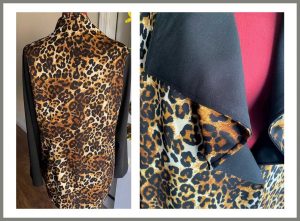 Q. Did you make any modifications in the pattern?
A. No, thankfully the full bust pattern piece was included with the pattern.
Q. Are there any changes you would have made?
A. I would like to try the tapered sleeve on my next blazer for summer when I would wear a cami or tank underneath.
Q. Did the pattern teach you any unique or special techniques?
A. Wrapped corner technique, which I did not know was taught by Nancy Zieman, and as Pamela states is life changing!
Q. Would you make this again?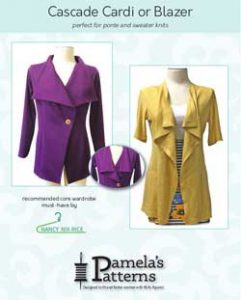 A. Absolutely! It's a great way to add to my wardrobe.
Q. Would you recommend this pattern to others?
A. Yes, if you are looking for a comfortable knit jacket or cardi to add to your wardrobe, this pattern is for you!
This pattern may be purchased at PamelasPatterns.com. Don't forget that Pamela offers ASG members a discount which can be found on the Special Offers page. Not a members? Join today!
---
~Joen Venitsky, Princeton ASG Chapter President