If you sew, let's face it, you create fabric scraps. With a world focus on going green, it's not acceptable anymore to simply send leftovers to the landfill. So what can you do with all those pieces you no longer need?
Giving scraps a new home
If you just have to get the scrap fabric out of your house, try looking for someone who may need them:
My local mechanic loves getting cotton weight fabric to use for rags. Anything that will sop up a spill or wipe off greasy hands is welcome. This helps him save the cost of buying rags, plus he then burns the used ones in his wood stove to heat his shop. Scraps — or even used clothing minus buttons, zippers, etc. — should be at least 12 inches square. Clean fabric that is sun faded, misprinted, or even stained works fine, and he doesn't even mind wrinkles!
Schools, recreation centers, day care, and senior centers that offer art programs are often looking for donations of scraps that can be incorporated into their projects.
With the increased interest in sewing due to the pandemic, some libraries have begun holding sewing classes as part of their programming. Scraps are especially appreciated for their beginning quilting projects. Some libraries even accept sewing machines in working order so that patrons can check them out to use either on site or at home.
Libraries are also looking for volunteers to teach sewing in a one-time or on-going program. It's a great way to promote sewing and ASG, especially during National Sewing Month in September.
Colleges with Fashion Design programs often have cash-strapped students who need fabric to complete collections and gratefully accept donations of those pieces that no longer seem to fit your style. Smaller pieces are also needed for the early sewing classes when they are just learning zipper insertion, plackets, etc.
Women's shelters may have a sewing room for residents to use. Scraps can be used for patching clothes and creating items for little ones.
Giving scraps a new life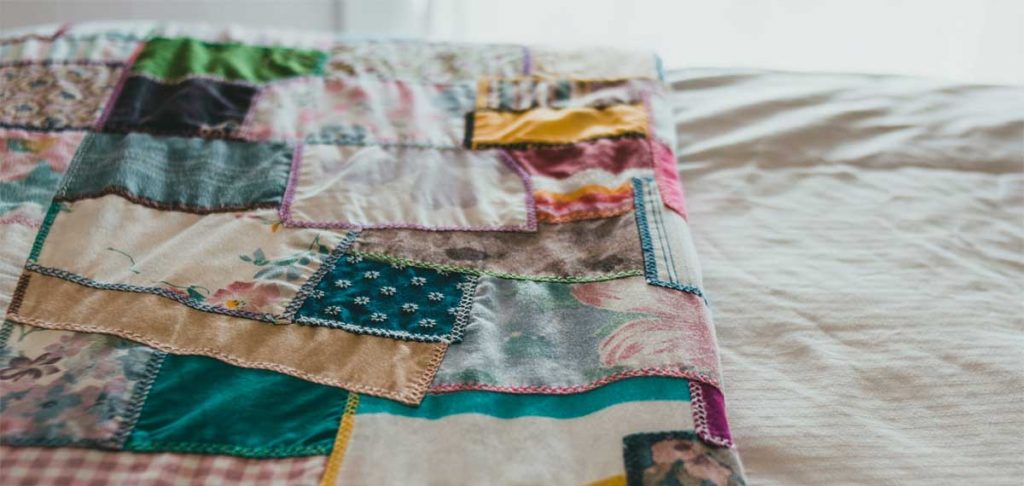 The most obvious answer is to create a scrap quilt. I had a friend who would cut her scraps into equal sized squares and throw them in 3 bags: lights, mediums, and darks. When she felt like sewing but didn't have a project in mind, she would alternately reach into each bag and stitch the squares together into 9 patch squares, then stitch those squares together in a random fashion. She was not a purist, so she wasn't worried about 100% cotton. She used blends and anything that felt appropriate. Not only did she get rid of those scraps, she was able to donate the quilts to veterans homes, shelters, and foster children's programs.
Another friend told me she likes to use her scraps to make little zippered bags for cosmetics, jewelry, or even credit cards. If the piece is large enough, the entire bag can be made from the same fabric, or separate scraps can be pieced together to create a quilted look. These little bags can be kept on hand for quick little gifts.
If you hate wasting money on wrapping paper that just gets crumpled up and thrown away, why not make reusable gift bags? Large scraps can be used for the entire bag, or smaller ones can be strip pieced to create the desired size. And they can be any size from those that hold a ring to an extra large package. I like to take leftover pieces of lace and sew it to the top edge, then fold the fabric in half and stitch down the side and across the bottom. Sometimes I even tuck two scraps of ribbon (at least 12" long) into the side seam to use as a tie and create a pretty self bow. In just a matter of minutes you can have a gift bag done to use the next time you need to wrap a present. Your recipient will be so impressed. Just don't tell them it was made from scraps.
Scraps for Charity
What about those batting scraps that quilters often produce? Take simple pictures from a coloring book and cut out animal or geometric shapes from fabric. Stuff with leftover batting and donate to first responders to give to children at the scenes of accidents or domestic violence cases.
A neighborhood groups in my chapter is dedicated to charity work. One of their projects is a fidget quilt that they donate to a local visiting nurse program for their Alzheimer's and dementia patients. They create the quilts by taking 4" to 6" squares of brightly patterned or textured fabric and sewing them together to create a small laptop quilt of approximately 18-24". The fabrics are sewn together to create the top and backed with a solid fabric. Batting may be used, but it is not required. The two pieces are quilted together along the block lines. Patients are attracted to the bright colors and textures and are often soothed by touching them.
My personal favorite (because it uses up every tiny scrap bit) is to create animal bed pillows. I use heavier weight fabric to create the pillow by cutting an 18" square or larger (or piece several smaller scraps together to achieve the desired size). Then I sew two of these squares together, stitching around the four sides and leaving an opening of about 5 inches. I always have one of these "pillows" in progress in my sewing room. As I cut out each new project, I take the leftovers and trim them into small 1" pieces and throw them into the "pillow." I even use the trimmings from the serger. When it is loosely filled to about 2/3 to ¾ capacity, I machine stitch the opening closed. Animal shelters and veterinarians accept these pillows and send them home with the animals. It's a great way to use up scraps and help our four- legged friends at the same time.
What do you do with your leftover scrap fabric? Hopefully some of these ideas will challenge you to accept the go green concept and you are creatively using those scraps instead of stuffing our landfills.
---
~Rosemary Fajgier