In Part 2 of this article on linings, we'll be reviewing Interlining and Underlining and why you might choose each one for your project. (Review Part 1)

While you can find all sorts of various definitions for these terms, for the purpose of this article we will define them as follows:
Underlining is cut from the same pattern pieces as the garment fabric. The two are then sewn to one another so the two layers act as one piece, reducing opacity or adding body/stability to the fashion fabric.
Interlining refers to material added between the outer fabric and the lining of a garment. You would typically use it to add extra warmth, but it can also ramp up the body or change the drape of a piece.
Underlining
When do you choose it?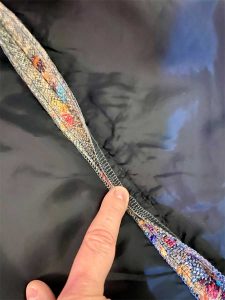 Choose underlining when you want to add body or stability to your fashion fabric or when you fashion fabric is thin and needs more opacity. If an underlined garment is also lined, you have basically moved to interlining instead of underlining. I personally use this technique as a quick and easy replacement to both traditional lining and flat lining. I don't like the feel of a free hanging lining as I wear a garment. By underlining with Bemberg or China Silk, I get the feel and garment protection of lining without that pesky lining crawl each time I stop at the restroom.
What fabrics work best?
Choose a fabric with a similar or lighter hand to the fashion fabric unless you want to change it.
If underlining a thin knit fabric or stretch lace, consider using nude swimsuit lining
How does it get constructed?
The construction method for underlining mirrors the information already described for interlining.  The primary difference is that when underlining you seldom trim the underlining fabric out of the seam allowance since it is rarely a bulkier fabric.  Plus, since underlining in the context of this article is not covered with lining, you will want to serge or otherwise finish the seams.
No matter which lining process you use, always remember to pre-treat and press both your fashion fabric and your lining fabric in the manner you plan to launder it after construction to be sure you don't have shrinkage, especially uneven shrinkage, which would cause distortion in the shape of your garment.
And when hemming your garment, take advantage of the extra fabric layer to hide your hemming stitches in the lining fabric instead of the fashion fabric.
Interlining
When do you choose it?
Choose interlining when you need to add warmth or stability to your garment. This method is in essence a third layer of lining as the garment usually also has a traditional lining that covers the interlining.
What fabrics work best?
Add warmth by using Primaloft, Thinsulate, batting, flannel or fleece.
Add body and prevent fabric stretch with Silk organza
Prevent creasing with light nylon net
Add drape with thin fabrics made with acetate fibers
Add density with cotton lawn
Change shade with light weight cotton lawn in a contrast or darker color
Consider using different interlining fabrics in different parts of a garment. For example, flannel in the jacket front and back, but a batiste or lightweight broadcloth in the sleeves to maintain drape and movement in a silk jacket.
How does it get constructed?
Simply cut the interlining fabric using the same pattern pieces and baste to the wrong side of the fashion fabric or the lining fabric inside the seam allowance then proceed with the construction treating the two fabrics as one. It is advisable to not only baste the outer edges of each pattern piece, but also the center of any darts to prevent them from shifting when sewn.
Tip for basting around corners: When you come to a corner, back stitch and clip your thread. Then start your basting on the next side with a new thread. Continuing around the corners with a single thread can cause distortion and make it harder to remove your basting later.
The decision of whether to attach the interlining to the fashion fabric or the lining depends on the garment type. For a fitted or semi-fitted garment, attach the interlining to the fashion fabric, especially if it needs more body or stability. For a loosely fitted garment, you may prefer to attach the interlining to the lining which will still add the warmth without reducing the fluidity of the fashion fabric.
While the basting can be done with a sewing machine, this sometimes results in a fabric "bubble" due to fabric creep as it travels through the feed dogs. Hand basting will often be more effective in achieving a truly flat alignment of the two fabrics. You may find it helpful to pin the pieces together not only along the edge but also down the center and along the darts. And it is important to baste these together while lying on a flat surface, not holding them in your lap. These tips can help prevent distortion and a potential "bubble" effect in either the fashion fabric or the lining.
Once your basting is complete, give the pieces a good press with plenty of steam to assure they are joined nice and smooth without bubbling. If you find any bubbling, now is the time to remove some basting stitches and correct it before you move forward with the construction process.
Trim interlining seam allowance close to the stitching line to reduce bulk. Depending on the garment and the interlining fabric; you may also want to trim the interlining away from facings and hems as well.
Enjoy your newly lined garment!
---
~Sheryl Belson