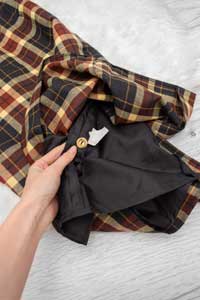 So here you are, making a pencil skirt with that precious fabric you brought home from your recent trip. It's luscious and precious and you want to construct it with care. You have some specific objectives and need to plan what are you going to do to make it:
Slide on like silk
Have a beautiful finish on the inside
Protect it from stress and wear over time
Minimize wrinkles during wear
I suspect right about now you are thinking – LINE IT!
And that is an outstanding idea, but line it how? Will you select a traditional lining, an underlining, flat lining, or an interlining?
ARGH! What's a sewist to choose?
No worries! Take a deep breath and read on. This article will help you understand the difference between each of these techniques and choose the one that is best for your purposes every time. While you can find all sorts of various definitions for these terms, for the purpose of this article we will define them as follows:
Traditional Lining is constructed separately from the garment and attached by hand or machine, hiding all the inner seams. It can be totally free hanging from the facings, neckline or waist or it can also be attached at the hem.
Flat lining cuts the vertical seam allowances ½ inch wider than the fashion fabric and "wraps" the fashion fabric creating a faux Honk Kong seam finish.
Interlining refers to material added between the outer fabric and the lining of a garment. You would typically use it to add extra warmth, but it can also ramp up the body or change the drape of a piece.
Underlining is cut from the same pattern pieces as the garment fabric. The two are then sewn to one another so the two layers act as one piece, reducing opacity or adding body/stability to the fashion fabric.
In Part 1 of this article, we take a close look at traditional lining and underlining. In Part 2, we cover Interlining and Underlining
Traditional Lining

When do you choose it?
Choose a traditional lining when you want to completely conceal all the inner construction details of the garment. It makes the garment slide off and on over the body or other garments with ease and helps reduce wrinkling as the garment is worn. Sometimes the lining is a bit of a design element of its own. Take a simple wool jacket up a notch with a fun lining in an amazing print!
What fabrics work best?
Lining fabrics should typically be made from a silky material. Great choices include:
Silk or Polyester Charmeuse
Silk Crepe de Chine
China Silk
Bemberg Rayon
NOTE: It is best to avoid a silk lining with a silk garment as silk on silk may result in static cling.
How does it get constructed?
Construct the outer fashion fabric and inner lining shell separately, then attach them at the facings, waistband or neckline. The lining can hang freely or be attached at the hem. It can be machine or hand sewn in place. The wrong side of the lining is always inserted facing the wrong side of the fashion fabric.
Flat Lining
When do you choose it?
Choose this method when you want the benefits of a lining but don't want it to hang freely. It offers the same benefits to the garment as both traditional lining and underlining regarding reducing wrinkles, adding stability and longevity to the garment. This method also produces a finished seam on all vertical seams that looks much like a Honk Kong seam finish. This technique is only applied to the vertical seams of your garment, so the waist, neckline or armscye will not have the same finish. It is an excellent method to use with fabrics that are highly prone to fraying as it encases the cut edge prior to construction.
Note: When researching information for this article, I found quite a bit of reference to historical flat lining which, in essence, is the same as the underlining method described in this article. If you are involved in historical costuming, don't be confused. Just recognize the different use of these terms in this article vs. much of the information presented in historical costuming resources.
What fabrics work best?
The very same fabrics used in traditional lining can be used for flat lining.
How does it get constructed?
Cut your lining fabric ½ inch wider on each vertical seam, resulting in a piece that is 1 inch wider in total.
Sew vertical edges together with ¼ inch seams. Remember, the lining is larger than the fashion fabric; it will not lay flush together.
Trim the seam allowance in half to 1/8 inch.
Turn the piece right sides out and press, leaving the fashion fabric completely flat. The lining fabric will wrap around to the front of the fashion fabric creating a faux Hong Kong seam finish.
Stitch in the ditch if desired. I frequently do not need to do this, but if you feel like the fabric is shifting, this will stop that.
Continue construction of the garment, treating the pieces as one. Don't forget to reduce your seam allowance on the vertical seams by 1/8 inch since you trimmed that much off in step 3.
Look for Part 2 (coming March 27) where we cover Interlining and Underlining
---
~Sheryl Belson