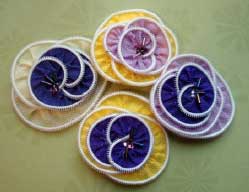 Make this sweet pansy pin using designer zippers from Ghee's! It's easy to construct and is a perfect embellishment for any season. Feature one or several on a lapel, handbag or headband or decorate a hat, belt, or shoes. You can even make other unique jewelry like a necklace or bracelet.
Materials
2 decorative zippers from Ghee's. Zippers should be at least 14″ long and in contrasting colors  (2 zippers will yield 2 pansy pins)
2 circles, each 1½"-wide, of backing such as buckram, felt, or heavy interfacing
2 pin backs
Bugle beads, small crystals or seed beads for flower centers
Needle and matching thread or sewing machine
Fabri-Tac™ glue
ASG members receive a 15% discount on their entire purchase at Ghee's. You can find the code on the Special Offers page in the Members Only area of ASG.org.
Directions
Cut bottom stop from both zippers, then separate the zippers and set the zipper pull aside for another use.
Using one side of each zipper, make a gathering stitch along the length of the zipper tape ¼" from tape edge with needle and thread or by sewing machine. Repeat with all the zipper
tapes.
To make larger petals, pull gathering stitches up loosely on one tape. Coil into 3 large petals. Arrange large petals on outer edge of backing circle. Glue in place. For center petals, pull
gathering stitches tightly and arrange coils to fit into center of large petals, hiding tape end. Trim off zipper tape if you have too many center petal coils. Glue onto center of larger petals. Repeat for second pansy pin.
Remove any gathering stitches that show. Glue or sew bugle beads and small crystals or seed beads to the center of the pansy.
Sew or glue pin back to pansy backing.
Download these instructions as a pdf file from Ghee's
---
~Linda McGehee, Ghee's