Sometimes things normally found in our sewing rooms end up with surprise uses. Such is the case for zippers!

With the myriad types of zippers available, they can definitely do more than close a garment. Think about them turning into jewelry or becoming piping or a surface trim. When grouped, they can also cover an entire garment section, like a cuff or collar.
Zippers are not only available individually, but you can purchase zipper by the roll or by the yard from some resources. When you purchase zipper tape by the yard, you have more flexibility to use it for many things since you're not limited by standard lengths.
The various types of zipper teeth add to the intrigue. Look for brightly colored plastic teeth on sport-weight zippers, brassy metal teeth on jeans and utility zippers, and even multi-color teeth on some novelties. For a bit of glam, indulge some rhinestone teeth.
Zipper tapes, the woven base for the teeth, come in many types as well, from solid color basics to printed or stripes of all sorts. For a bit of bling, you can also find metallic and satin zipper tapes.
Let the zipper inspire you for alternate uses!
April 29 is National Zipper Day!
Weaving
If you want to cover a large area, like for making a pillow, garment yoke, or perhaps a tote bag front, think about weaving zippers to the size you need.
A simple over-one-under-one patterning done over a pinnable surface can yield some sizeable pieces. A bit of stitching (or fabric glue) at the overlaps can secure the pieces in place and allow for cutting of the size and shape needed for the project.
Before cutting woven zippers, trace the piece shape needed and stitch just inside the cutting line so the woven strips don't distort or pull apart. Once the piece is secure, use the woven zipper area as you would fabric, with one exception. If the zipper teeth are metal, remove those within the seam allowances to avoid breaking needles.
Looking for inspiration? Check out this cute zipper bag from Yarnspirations and visit the link to see how it's made.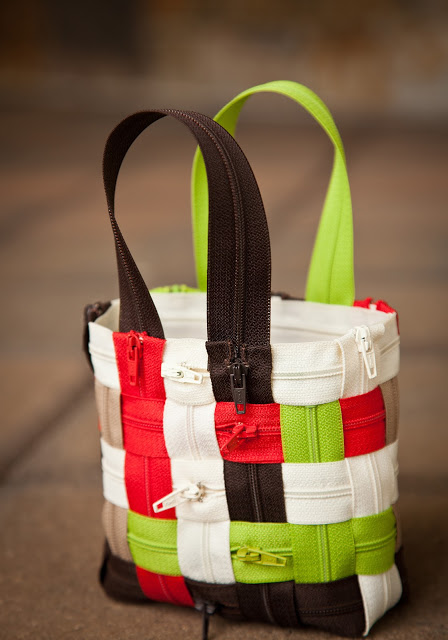 Stacking
Zipper tapes can be overlapped, either closely or more widely spaced, to fill an area, such as a cuff or jacket yoke, or to make a bracelet. The easiest way to do this is to cut a lightweight background fabric in the size and shape needed, then stitch the zippers onto it. For a bracelet, a felt background is ideal since it's comfortable against the skin, yet sturdy enough to hold the weight of multiple zippers.
Zipper tapes can be parallel to each other, or not, depending on the desired look, and zipper pulls can be incorporated for added accents.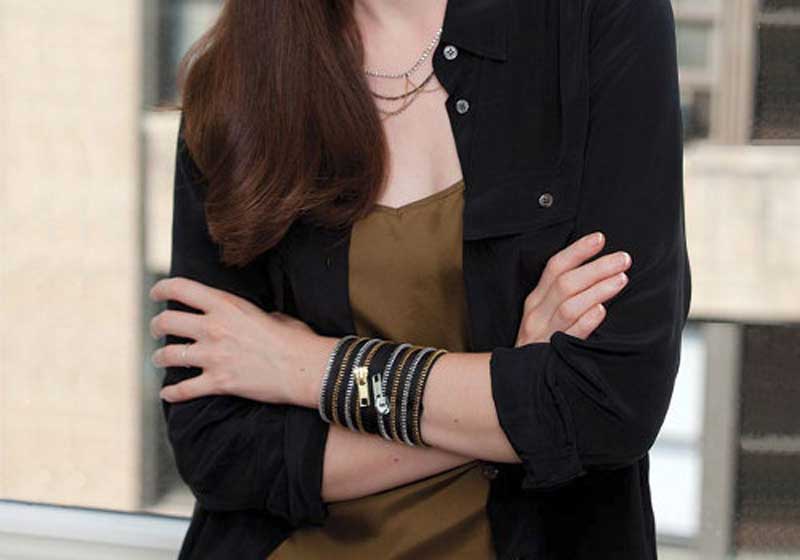 Shaping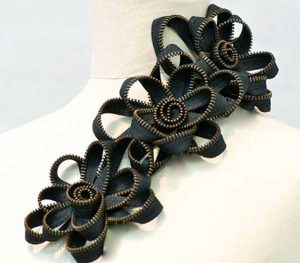 Zipper tape is readily shapeable with a few hand stitches to hold it in place, so making freestanding flowers is easy. Just shape the petals to the desired size and hand-tack the center. Sew directly to the project, or add a pin back to make a jewelry accent.
To make longer lengths of trim, use hand stitches along the tape edge to shape it, either in regular or random patterning, then stitch through the zipper to hold it in place.
For even more flexibility, trim the zipper tape close to the teeth, so that those become the focal point. To prevent fraying, coat the cut edges with a fray stopping product. To hold the design shape, hand-stitch over the teeth with invisible thread.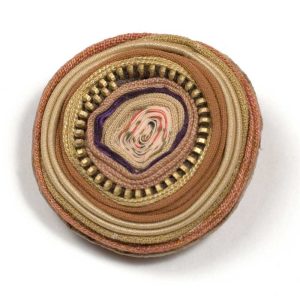 Consider using zippers decoratively to make buttons—the glint of metal teeth works well when coiled with other fabrics. Hand-stitch the wraps together to create the desired size, or stitch them to a background circle of fabric. These types of decorative buttons are best for show, and not for use through a buttonhole, though they can work well through loops…perhaps loops made of zipper.
Piping
Who says piping has to be fabric? It can be even more interesting if it's made from zippers. Fun teeth create the exposed trim portion for a fun pop of color when inserted into a seam or used along an edge. Insert the zipper tape as you would standard piping so that the teeth are the visible portion, or stitch further away from the teeth to show a hint of the zipper tape as well.

Do not extend heavy teeth beyond the seamline, but instead trim them off and use a fray stopping product to secure the ends.
To apply edge piping to a curve, clip into the zipper tape and spread it so it lies flat against the shaped edge.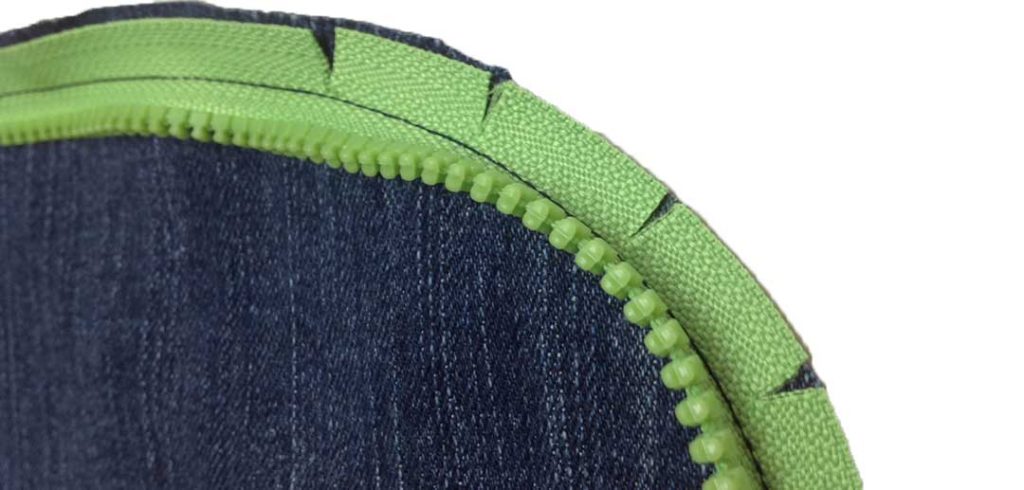 One caution: Metal or large plastic zipper teeth can be an irritant to the skin when used along the edge of a garment, so keep that in mind when choosing where to use them.
So, start looking at zippers in a new light—not just hidden closures. Happy Zipper Day!
---
~Linda Griepentrog
Linda is the owner of G Wiz Creative Services and she does writing, editing and designing for companies in the sewing, crafting and quilting industries. In addition, she escorts fabric shopping tours to Hong Kong. She lives at the Oregon Coast with her husband Keith, and two dogs, Yohnuh and Abby. Contact her at .