Calling all members!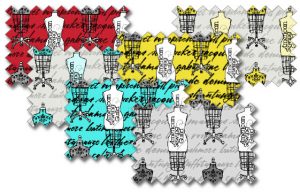 What have you been making from our ASG fabric? We are currently looking for original designs that our members created from our very own unique fabric—the one with the dress forms and the ASG logo.
We were thrilled when we received nearly 1,300 submissions for our 2018 contest. Despite the great response, many members told us they wanted to participate, but they just couldn't think of how to use the fabric. So if you designed, or are willing to design, something made with our own ASG fabric, we would love to share it with our ASG family and inspire others to show off their ASG pride with a unique item just for us.
Your creation must feature the ASG winning fabric from MyFabricDesigns.com — the fabric with the dress forms and the ASG logo.
You may use any of the colors featured and can modify the size of the print right on the site. You have a choice of over 20 fabrics, from cotton to silk to French terry and many more.
While the ASG winning fabric must be used, your design can also feature other fabrics as well.  These may be the coordinated prints from the site or something of your own choosing.
MyFabricDesigns.com is currently offering ASG members a 15% discount on any fabric. Log in to the Members Only area, go to the Special Offers page and look for the code under My Fabric Designs.
The fabric is printed to order and takes about 10-14 days to be printed and shipped.
My Fabric Flash Drive Holder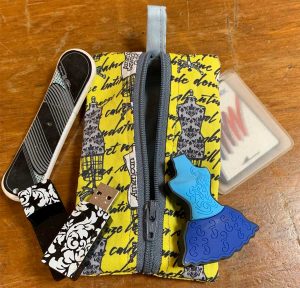 To kick off this new undertaking, I am including a simple pattern for the Fabric Flash Drive Holder I created for protecting my flash drive, and we are debuting it for National Flash Drive Day. The little pouch was created to hold a simple flash drive, or even the larger specialty one that I use for my embroidery designs. Of course, you can use yours for all kinds of small objects. I've used a technique I saw recently that allows the pouch to be created easily with no exposed seams on the inside. Check it out and see what you think.
If you have a design you would like to share:
Please use the format I have used to create my design. A sample Word template can be downloaded here to use.
Write up the instructions and be sure to take pictures in jpg format.
Submit your project instructions and images using this form in the Member's Only area.
We can't wait to be inspired!
---
~Contributed by Rosemary Fajgier