One of America's most beloved fabrics, denim can be a delight to sew if you know the tricks.

Tools
Always use sharp scissors or a new rotary cutter blade to cut clean edges on this dense fabric.
On heavier denims, use spring clips to hold edges together for sewing, as opposed to pins which may bend.
If you have a walking foot, use it to help keep bulky layers from shifting.
A definite must—a denim/jeans needle with a sharp point for piercing the closely woven fabric.
For decorative topstitching, use heavy thread and a topstitching needle.
Preparation
No doubt about it, denim shrinks, so pre-wash and dry it at least once. Wash it alone or with similar colors to prevent dye transfer.
Use a with-nap layout for your pattern to avoid shading. Denim's twill weave is really a one-way design.
Once your pieces are cut, serge or zigzag all the edges to prevent fraying.
Seaming
Standard seams are ideal for denim and pressing seam allowances open creates a flat finish. Other options include pressing the seam allowances to one side and topstitching, or creating a real flat felled seam aka Levi's look.
Topstitching denim helps to keep the bulk controlled. Look for matching or contrasting threads, or a blended denim thread for this purpose, and heavier weights for more prominence. Topstitch with a single, double or triple line of stitching.

A twin denim needle with 6mm spacing will create two parallel rows of topstitching in a single pass.
Hemming
A single-layer topstitched hem is easy to do in denim—just serge or zigzag the hem edge and topstitch in place. A double hem is also an option for lighter weight denims, but may be too bulky for heavier ones.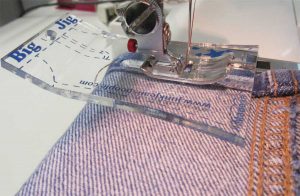 The biggest issue with hemming denim is crossing perpendicular seams, as there are multiple denim layers to contend with—feeding may not be even and stitching may become uneven due to the bulk. However, clever sewers have a tool to help with that situation, like the Big Jig. These are small plastic tools designed to level out the layers when stitching across bulky pile-ups. Simply place the tool under the presser foot at the start of the bulk and when the foot is level with the highest part, move it to the front of the foot to help with the decline.
Trimming out seam bulk and even pounding layers with a rubber mallet will also help reduce the bulk of multiple denim layers.
Fun touches
As noted, denim is prone to fraying, and you can use that characteristic for fun trims and design features on a denim garment. Sew a matching or contrasting line of straight stitching at the fringe depth you want, then pull threads up to it. Most denims have white threads in one direction and colored in the other, so choose which ones you'd like to expose.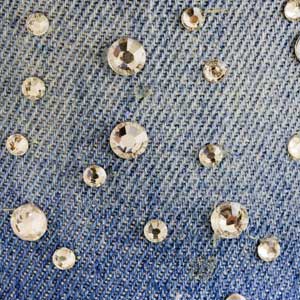 Rhinestones and nail heads make perfect embellishments to add bling to your favorite blues. Look for the easy iron-on version for quick application.
Looking to copy your favorite Calvin's? Add bartacks to pocket corners. Simply set the machine for a dense zigzag and stitch a few stitches to make the "bar" about 1/4" long.  Check your machine: it may have a bartack setting built in.
---
~Linda Griepentrog
Linda is the owner of G Wiz Creative Services and she does writing, editing and designing for companies in the sewing, crafting and quilting industries. In addition, she escorts fabric shopping tours to Hong Kong. She lives at the Oregon Coast with her husband Keith, and two dogs, Yohnuh and Abby. Contact her at .