Our thanks to ASG member, Tina Gordon, for her review of this jeans pattern!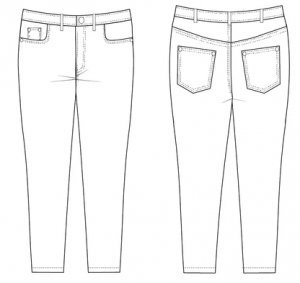 Q. Item Created 
A. Denim Jeans
Q. Independent Pattern Designer
A. Cashmerette
Q. Name and Number of Pattern
A. Ames 4101
Q. Fabric Used:
A. Stretch Denim with 2% Lycra
Q. Special Embellishments/Notions Used
A. Rivets, embroidered pockets
Q. Skill level required?
A. Intermediate
Q. Are the instructions easy to follow?
A. The instructions were very well written with detailed illustrations.
Q. Are you pleased with the finished result?  Did it meet your expectations?
A. I am very pleased with how my jeans turned out. Having struggled with fit issues on another pattern of similar style, my hopes were not set high. Surprisingly, the fit was almost perfect. Really, I think after another washing to two, the "excess" fabric I see will not be noticeable any longer and will have "worn in," conforming to my specific shape. The pattern says high rise, but it's really mid at best.
Q. Did it look like the picture?
A. Yes and no. The line drawings are spot on with regard to styling. However, if I had made the pattern for my body type, which looks most like the picture for the apple pelvis style, the jeans would not have fit as well since this view is meant for a flat posterior and not rounded (although my full tummy and straight hips fit the scenario pictured). By choosing the pear pelvis (which is what is recommended by the designer), this view accounts for a round rear, although the model pictured is a true pear shape with a more defined waistline.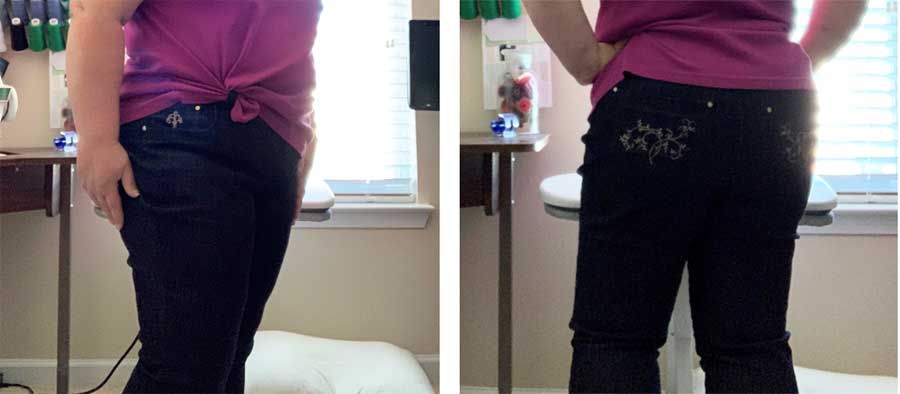 Q. Did you make any modifications in the pattern?
A. The pattern is drafted for a woman who is 5'6″, so I shortened the leg length. Otherwise, that's it. The pattern is already drafted for a swayback with a rounded waistband.
Q. Are there any changes you would have made?
A. The next pair I make I will adjust the rise just a bit, as I like my jeans to sit slightly higher. I will adjust the waistband as well but just minimally to account for my swayback with a round derriere.
Q. Did the pattern teach you any unique or special techniques?
A. I love sewing fly-front zippers. It's my thing.
Q. Would you make this again?
A. YES!
Q. Would you recommend this pattern to others?
A. It's definitely drafted for the curvy figure. I highly recommend it for those curvy ladies struggling with fit in other patterns.
Pattern Link: https://www.cashmerette.com/products/ames-jeans-pdf-pattern
---
~Tina Gordon, Central Savannah River Chapter