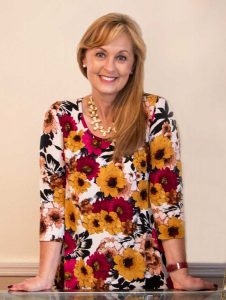 Always a favorite at ASG conferences and other sewing events around the country is this month's independent designer, Pamela Leggett, owner of Pamela's Patterns.
Pamela's tag line is "Designed to fit and flatter women with REAL figures." Her patterns are designed for women with curves and fluff and scallops, not the slender 14 year old frame that commercial patterns cater to. Instructions are carefully written and crafted, and there is even YouTube support from her channel to assist with pattern altering, sewing, and fitting. If you go to PamelasPatterns.com and check out the photos of her garments, you will see the hint of a waist in all of her designs for tops. This gives even the "fluffy" figure the illusion of an hourglass shape. This flattering aid makes her patterns a favorite among many ASG members.
Pamela's Patterns started in 2005 when she realized the need for patterns that fit mature figures. But that was not the start of her career. Pamela recalls, "My parents owned their own business and encouraged me to do the same. I started sewing to earn money at 14. I did alterations and made bags and clothes from jeans. At 16, I started doing custom work in clothing and home dec. At 20 I opened a boutique in an artist/tourist town with vintage, retail, and my own designs. At 24 I started in the retail sewing business and teaching, continuing with custom work and a short delve into small manufacturing of my designs."
Childhood Sewing Memories
Her first recollection of sewing dates back to when she was around 4 or 5 and used her grandmother's treadle machine to draw pictures, which was after she had no luck with knitting. She made her first dress with her mom when she was 7 or 8 and then couldn't make enough clothes in junior and senior high. Along with her mother and grandmother, Pamela credits Stretch & Sew classes for shaping her sewing aesthetic. "Even though Stretch & Sew classes were expensive, my mother let me take many. She said she thought that would keep me out of trouble. I grew up in a family of makers. My mom and both grandmothers sewed beautifully. And they also were involved in many other crafts – pottery, painting, upholstery, needlework, knitting – even engine repair! My dad is an amazing recycling artist, leatherwork and scrapbooker."
Pamela explained that she apprenticed for two years with a Japanese tailor who taught her a lot about alterations and fine handwork. Her biggest mentors have been Ann Person from Stretch & Sew (sewing and designing for knits), Pati Palmer from Palmer/Pletsch (pattern fitting) and Nancy Zieman from Sewing With Nancy (teaching). She says, "These women were incredibly generous and giving with their encouragement and sharing knowledge."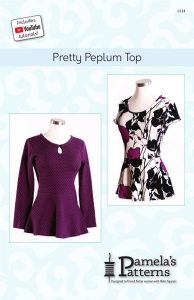 When asked where she finds her inspiration for her designs, she explained, "I look at trends in ready-to-wear shops, catalogues, pinterest, online stores, and on the women around me. My students are also always happy to share a particular garment they love and hope that I will make a pattern for it. I keep everything rather classic – my best selling patterns are the patterns that are almost 15 years old! Some of my patterns take a little break in popularity, and just when I think I will discontinue them, they come back in style! This season it is the funnel neck – I created that pattern in 2007, and it is everywhere this season."
In addition to her pattern company, Pamela is the East Coast director for two Palmer/Pletsch schools – Connecticut and Philadelphia. She said, "I am honored to carry on the excellence of teaching started by Pati Palmer and Marta Alto." Other highlights she talked about included, "Being on two episodes of Sewing With Nancy was like a dream come true. My work with Taunton Press Publishers and Threads Magazine has been a wonderful experience. Creating class material for Bluprint/Craftsy was a great learning experience, they have such a high standard of production and work well with instructors. I have also sold my patterns on The Shopping Channel in Canada (the U.S. version of QVC) – live television is crazy!"  (Be sure to check out Pamela's book and DVD on serging produced by Taunton Press and reviewed in a previous Notions article.)
A Love of Teaching
When asked what her favorite aspect of her career is, she replied, "I LOVE teaching! It is what inspires me to do everything else. I love working with women who share the common obsession of sewing. So much more than sewing happens when you gather caring and creative women together. The networking and support is unstoppable and addictive. Women who sew are the most generous women in the world."
Each year Pamela teaches at Camp Workroom Social, a conference that pulls in sewists and instructors from all over the world, the majority of which are young professional women. She says, "Sewing is alive and well with young women; they are as obsessed as we are. Young people who sew, design, and teach have a different way of learning, shopping, and marketing than we do, but it is still rich and flourishing. We may see the demise of some of the "old" ways of doing business, but new ways will take over."
Pamela began as a member of the Philadelphia chapter of ASG and since her move to Connecticut, has joined the Connecticut chapter. You can check out Pamela's website at  https://pamelaspatterns.com or find her on Facebook and Instagram. ASG Members receive a 10% discount on online orders and can find the discount code in the Special Offers section of the ASG website.
---
~ Rosemary Fajgier
The American Sewing Guild is truly fortunate to be able to count many gifted sewing designers and instructors among our friends, members, and supporters.  Throughout this coming year we will be featuring some of them in our Notions Blog.  We hope you will enjoy reading about them and take the opportunity to get to know them better and explore their many talents by visiting their websites, taking their classes, and discovering the wide variety of designs they bring to the home sewing market.