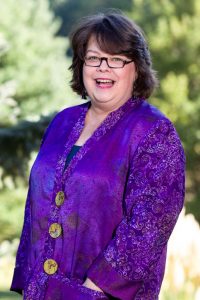 You've seen set in sleeves, dolmans, dropped shoulders, and raglans, but in 2011 a new design hit the market with the Tabula Rasa Jacket from Fit for Art Patterns by Rae Cumbie and Carrie Emerson. Their unique pattern gives the maker not only an easy, unusual sleeve insertion, but also a pattern that provides a palette for easy embellishment.
These talented ladies began their business shortly after Rae had begun to teach jacket making to quilters and weavers and found that there were no patterns that allowed them to create great looking jackets with simple lines and easy options for fitting. Thus, out of necessity, came innovation.
What makes this pattern unique is that the sleeve is first stitched to a side panel at the underarm. It's then stitched to the front and back panels in one long seam that goes smoothly from the lower hem edge in the front, over the shoulder, and down to the back hem edge. The construction is simple and easy because it does not require the gathering or circular construction of set in sleeves. Another benefit is that the design is comfortable to wear and easy to fit!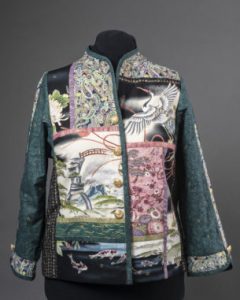 When describing her pattern, Rae said, "Our patterns have fitting options in key locations so students and home sewers can achieve a good fit quickly. Our directions walk stitchers through all the key information they need to sew successfully; our blog posts, videos and helpful hints on the web fill in gaps like zipper insertion techniques and seam finishes. We want sewists to sew successfully with Fit for Art Patterns."
Although the company started with the jacket pattern, they quickly saw that the pattern could be adapted to far more than just jackets. They now offer variations with the same basic pattern to make pajamas, blouses, dresses, vests, etc.  And if you prefer to work with knits, there is a pattern for them as well. Most recently added is their Eureka! Pants that Fit pattern.
---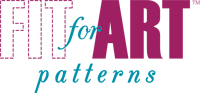 ASG Members can visit the Members Only – Special Offers section of the ASG website for a limited time discount of online orders of patterns, tips books, or kits with patterns from Fit for Art Patterns.

---
Where It Started
Rae started sewing as a child, being taught by her mother and later friends of her mother's when more expertise was required. She admits to, ". . . sneaking into the sewing room to work on the machine unsupervised and getting into some chaotic messes." She went on to add, "I can still make a pretty good sewing and fabric mess today when I am working on a new embellishment technique or art garment."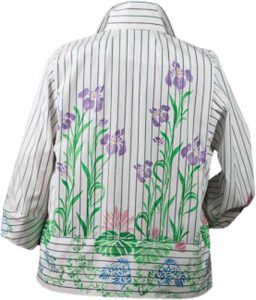 This designing and embellishment process remains her favorite aspect of the business, saying, "This, of course, requires careful construction and engineering so no element of sewing goes unturned with these projects. But my next favorite thing is teaching and energizing sewers of all ages to play creatively with fabric and make successful clothing."
Perhaps it was because of her relaxed sewing education that she felt free to be so creative. Her style reflects a daringness that is always new and exciting while partner Carrie is more subtle and traditional  It is sometimes surprising to see the same pattern used so well to fill such a variety of tastes. In addition to having samples of these designs available at the shows they do, they can also be seen on their website at https://fitforartpatterns.com/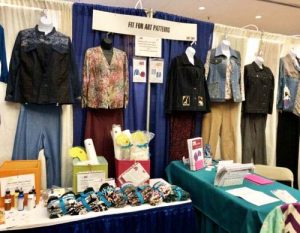 In addition to her classes, you may recognize Rae's name from the many fitting and design articles she has written for Sew News and Threads Magazines over the past 15 years. She says, "It has been such a pleasure to help women of all shapes, sizes, and ages to get a good fit and feel empowered to stitch up a wardrobe that fits their bodies and lifestyles." In addition she is a favorite instructor at ASG chapters throughout the country and at our ASG annual conference.
Some of her other achievements include having been instrumental in establishing the Charitable Foundation of the Association of Sewing and Design Professional which makes grants to sewing related non-profits and students in need. She was also honored to win the most creative award in the Threads Magazine Little Black Dress Challenge.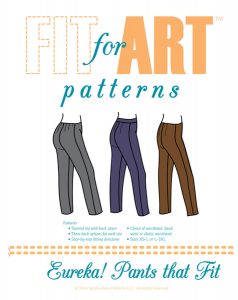 On the future of sewing, Rae mentioned, "I am delighted to see women of all ages becoming interested in creating a handmade wardrobe and expressing themselves through the art of sewing. The internet makes it easy to spread the word and encourage these new and renewed stitchers, so I am pleased that communication is so free and easy. Our Eureka! Pants that Fit pattern and the Tabula Rasa Tee and Tunic pattern were developed in order to provide wardrobe making options so home sewers could get a great fit in all their clothing."
She went on to say that she is also discouraged, "Folks on the internet with a platform sometimes promote mis-information and imperfect technique, which causes confusion and discouragement among new stitchers. I also regret the slow death of independent fabric stores that offer unique and lovely products for sewing enthusiasts. I do believe that folks who really have a passion for sewing will find good instructors and hands-on education like those found at the ASG Conference every year."
---
~Rosemary Fajgier, ASG
Both Carrie and Rae are members of the Maryland Chapter of ASG and are now offering a special 10% discount to all ASG members on online orders of patterns, tips books, or kits with patterns. Go to the Members Only – Special Offers section of the ASG website to get the coupon code to be entered at checkout.  Be sure to check out their website at https://fitforartpatterns.com and sign up for their weekly blog or one of their workshops, retreats, or their "Enchanting France, Embellishing Fabric" tour, a retreat in the French countryside that includes fiber related excursions and studio stitching.
The American Sewing Guild is truly fortunate to be able to count many gifted sewing designers and instructors among our friends, members, and supporters. Throughout this coming year, we will be featuring some of them in our Notions Blog. We hope you will enjoy reading about them and take the opportunity to get to know them better and explore their many talents by visiting their websites, taking their classes, and discovering the wide variety of designs they bring to the home sewing market.