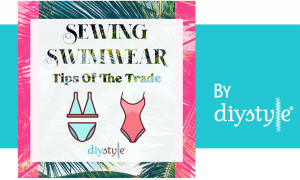 DIYStyle® for the Millennial Sewer
by Cindy Cummins
Editor's Note August, 2022: This article has been updated to remove links that are no longer operational
To say that I'm passionate about sewing is an understatement. With more than 35 years' experience in the industry, from working in sewing education to designing some of the first serger patterns, I've gained some valuable knowledge to pass down to young sewists. This is one of the reasons that I launched DIYStyle® along with designer (and my daughter) Allyce King. We frequently offer tips on anything and everything related to sewing, but we are particularly qualified to give tips on a certain subject: Sewing Knits & Swimwear.
History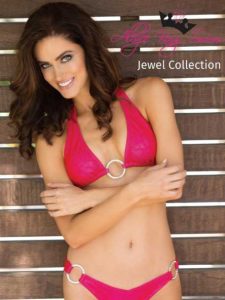 In addition to working together at DIYStyle, Allyce and I made up part of the team at Allyce King Swim, a custom swimwear company that focuses not only on suits for the pool, but suits for the stage. Our line was worn by competitors nationwide, including Miss USA, Miss America, Miss Teen USA, and Mrs. United States, just to name a few.
Allyce first started learning swim and activewear design and sewing techniques in fashion design school, graduating from Stephens College. She later honed her designs and techniques with seamstresses in the sample workroom, and in production. Design, line, fit, color, and optimal style for body type are of key importance with these discerning customers. Allyce was one of only a handful of designers in this niche, and many clients won in Allyce King Swim suits.
Our Swimwear Creation Tips
It all starts with the best tools, good lining, and best quality 4-way stretch fabrics. These are a few of our favorite notions/tools and tips that are important as we are creating new sample pieces.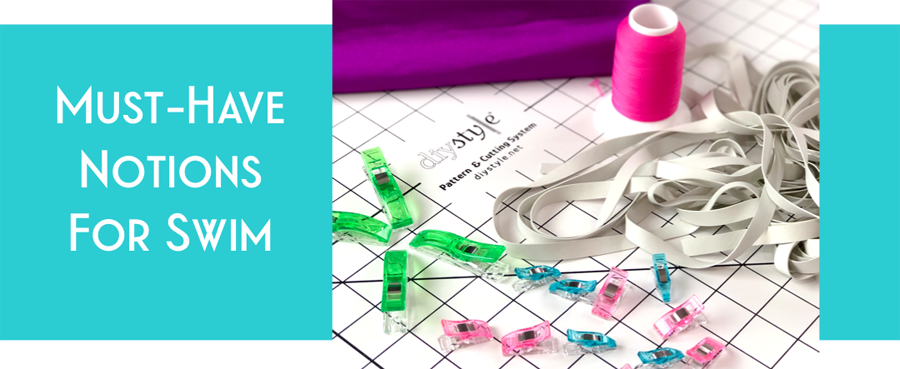 Use clips instead of pins for most all construction, including applying elastics. We especially like the pointed ones for ultimate control in tight places.
Tech Elastic works best for swim and activewear as it is latex free, does not break down with chlorine or sweat, and does not have that messy powder like some other rubber elastic tapes. We discovered this while Allyce did pageant swimsuits, as many of the girls had latex allergies. We use this for all of Allyce King Swim pieces.
Use a chalk liner for markings. It brushes off most swim and activewear fabrics. Test color first on a swatch. We most often use white and pink for most colors.
Texturized thread is great for ultimate stretch with 4-way stretch fabrics and the movement swim and activewear garments require. This thread is nylon or poly, and is crimped. It has some "spring" to it, making it stretch and recover–just like the S-T-R-E-T-C-H knit fabric.
Tips for Swim/Activewear Construction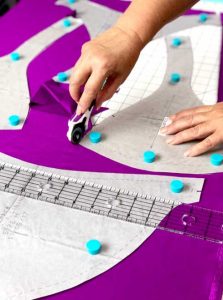 Cut with precision. A 1/4" difference is a LOT in swim and activewear. Use a set-up that does not distort or stretch the fabric when cutting. Our magnetic DIYStyle Pattern and Cutting System works great for this! The low-profile magnets hold slippery fabrics like swimwear in place, while keeping the fabric from pulling and stretching. We also use our Pro T-square for cutting straps and bands precisely. We'll give you more information on our system below.
An ongoing debate with sewers! Are you team Rotary cutter or team Shears? We lean to the rotary cutter in our studio, as we feel it cuts faster and is accurate for our needs. But some sewers feel more comfortable with a great pair of sharp shears. As long as you are not lifting up or moving the fabric as you are cutting (thus distorting the cutting line) both work just fine. Especially helpful with either method our FabricMagnets™ (in lieu of pattern weights) along with the magnetic mat, hold everything in place for cutting precisely.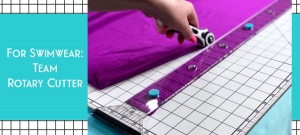 Make a stretch muslin. We use fabrics that are similar stretch to the finished design to judge the fit and design of a garment. It's so much easier to make adjustments on the muslin than to fit and reverse sew the fashion stretch fabric! Once the muslin is fit, sewing the final piece goes so much faster.
Linings are important in swimwear. Don't ever leave out the lining. We have a special lining that we use for the Allyce King Swim line that is heavier for our pageant (stage) clients. For a suit worn in the water, the lining must have similar stretch as the fashion fabric to fit properly. White swim lining makes fabrics look brighter, nude is another choice standard, and black for dark fabrics. And interlining with a stretch mesh adds another layer of control, hugging the body and smoothing lumps and bumps. Cut this the same as the lining, sandwiching between the swim (or activewear) fabric and lining.
Use Tech elastic to control edges, and where elastic is needed. We like 3/8" wide for all of our suits, and it's most appropriate for all swim and activewear. Here are the steps we use for applying and finishing elastic quickly and neatly.
1. Apply Tech Elastic to edge. We use the serger for a professional application. The edge of the elastic tape rides along the seam line (our patterns have ½" seam allowance, so we trim a scant 1/8" while applying. Use a 3-thread wide stitch with a 2.5 stitch length.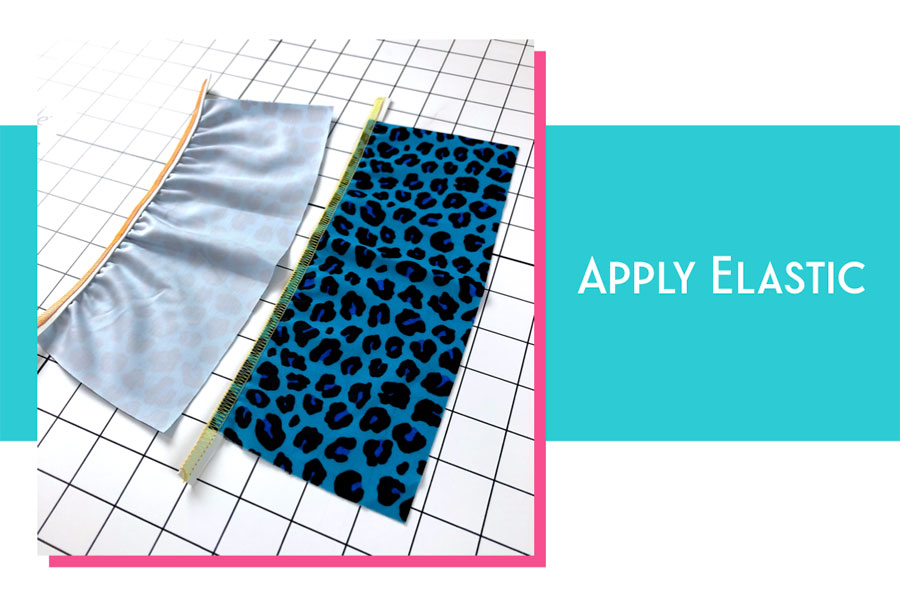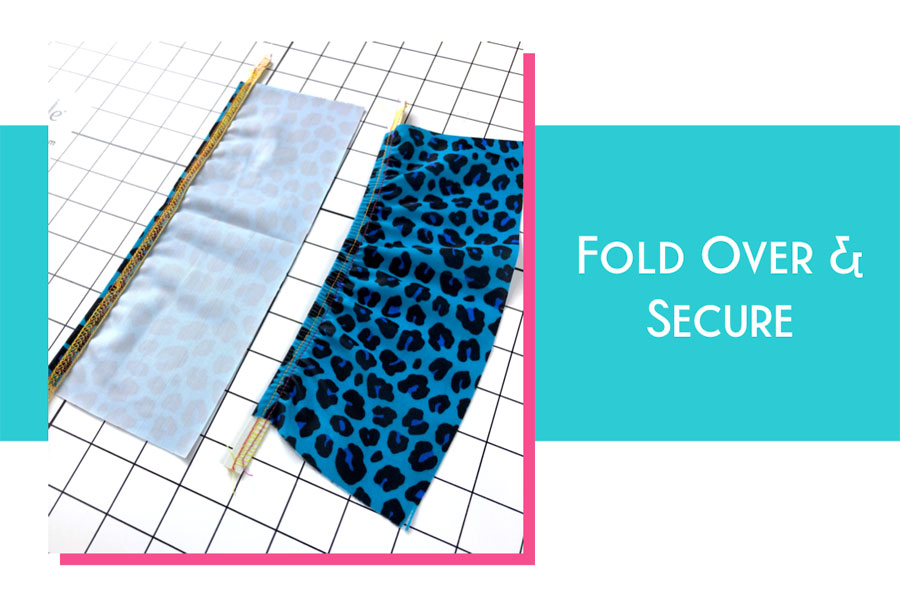 2. Fold over and secure. We prefer the coverstitch for this step, but you can also use a multi-step zig-zag or regular zig-zag for finishing. A wide or narrow coverstitch can be used, with a 2.5 stitch length. This is also where the texturized nylon thread works great in the looper for ultimate stretch. Be sure to fold over, then stretch the elastic up to the fabric, but do NOT stretch the fabric as you are securing the elastic. Stitch close to the inside edge of the elastic, with both needles penetrating the elastic.
3. Prevent tunneling (that ruffled looking edge) by pulling elastic taught, while smoothing the stretch fabric at the same time before securing.
Ongoing debate #2! Sewing machine vs. Serger for sewing swim and activewear. While we prefer the serger and coverstitch combo, you can definitely sew swim and activewear with a sewing machine that has just straight and a few zig-zag stitches. Because you are sewing a stretch fabric, you will need a stitch that gives and recovers with the fabric. The only time we use a straight stitch in swimwear is for basting linings, gathers, and stabilizing areas with twill tape that we do not want to stretch. A narrow zig-zag is appropriate for seams, while a multi-step zigzag is best for applying elastic and finishing.
Speaking of seams, watch the exact seam (stitching) line as you are sewing. As stated above, ¼" is a lot in swim and activewear! As you are sewing or serging, be sure the needle is directly on the seam line. If serging, engage the knife so the excess is trimmed off. If sewing, trim the excess after, close to the zig-zag stitching. For serging use a 3-thread wide stitch, 2.0 stitch length. For sewing, use a multi-step zig-zag, with 2.5 stitch length, and 3.0 width.
Straps need elastic! Fabric tubes alone are not sufficient for hold and stretch on a swimsuit (or workout garment), especially once that suit hits the water! We use a French-filled strap method for creating all swim and activewear straps. This creates a professionally finished and pretty strap, filled with elastic.
Creating your own swim and active pieces is actually faster than shopping for a swimsuit (and we know how we all dread that)! Using these tricks of the trade, and you will be on your way to adding your own custom suits to your wardrobe.
Saving Time—Increasing Accuracy
Along the (sewing) journey at Allyce King Swim, we invented a new system and method for cutting fabrics fast as well as making patterns efficiently. Used in our studio for a few years, we recently brought our new Magnetic DIYStyle Pattern and Cutting System to the home sewer.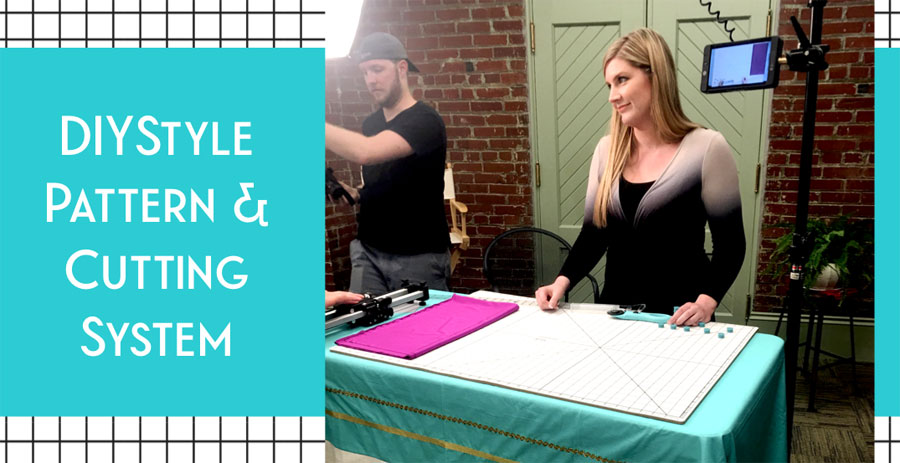 With this new magnetic set-up, you can cut fabrics in 2/3 the time, as well as increase accuracy in cutting (1/4" is a LOT in swimwear). No more pins! This is especially important in producing a line for customers–reducing time spent in the prep is key.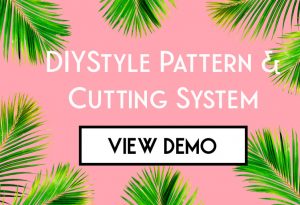 We also use our specially designed Pro T-Square for aligning pieces, as well as cutting strips. We are extremely proud to have our DIYStyle Pattern and Cutting System made in the USA. In doing so, we employ several individuals with disabilities, as well as veterans.
With the addition of this new product, DIYStyle® revolves around designing, developing and promoting new products that help the home sewer and small design businesses. And we continue to offer the on-trend fashion projects creators love.
---
~Cindy Cummins, DIYStyle