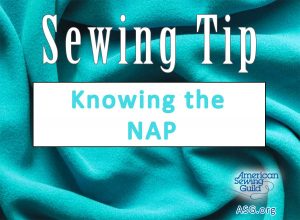 Napped fabrics are normally cut so that the nap runs down the garment, from the top down toward the lower hem. This feels softer, and the fabric tends to pill less and wear better. However, when the nap runs up, the color is richer.
Short-nap fabrics, such as corduroy and velour, can be cut with the nap running up to achieve a richer, deeper color and a more interesting texture.
Outerwear fabrics with heavy and longer surface fibers, such as fleece and camel's hair, should be cut with the nap running down, so the pile is smooth and the garment repels moisture better.
---
~ Thank you to www.sewing.org for this tip (reprinted with permission)