The sewist's crayons!
Not really designed for construction, variegated threads are multiple colors within a single strand. When you look at a spool, you may see distinct color patterns or simply a blending of similar colors, depending on the brand, how the thread is dyed and how it's wound on the spool or cone. Stitching with these threads on your sewing machine also produces differing results. Sometimes, surprises happen unexpectedly!
The spacing and repetition of colors within the spool vary by thread type and brand. Some multi-color threads repeat colors in a regular sequence, others offer random color repeats and others may change hue every inch, or every few feet. Colors can be related by shade, such as a light, medium and dark tone of the same color, or they can be bold contrasting colors, like a mix of red, white and blue within the same strand.
Sometimes the color change is distinct, abruptly changing from one to the another, but more often the changes are gradual with a melding from one shade to the next.
How the thread is dyed determines how it stitches out, in combination with other factors like stitch length and width, and the actual stitch selection.
Look for variegated threads in multiple fiber options—cotton, polyester, rayon, metallic, silk and texturized nylon. They also come in different thread sizes, depending on the use. Heavier weights are ideal for multi-color free-motion quilting.
Stitch Subtleties
Variegated threads can be used in a number of ways. Satin stitching takes on an entirely new persona creating stripes of color—either distinct or melding.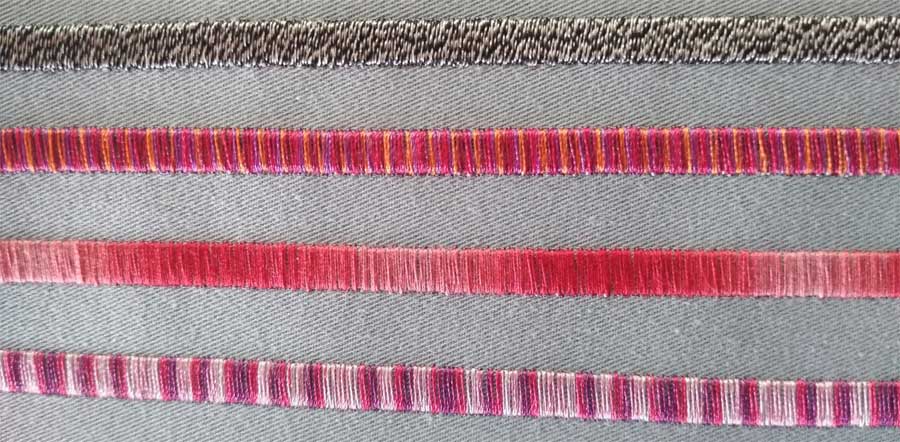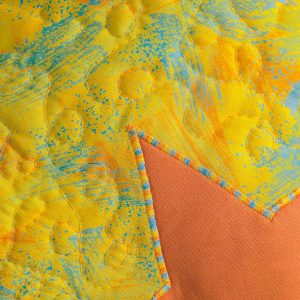 A striped appliqué edge is interesting as well. Topstitching with variegated thread is fun, free-motion quilting allows for blending colors found in fabric prints, and the world is your oyster with decorative machine stitches.
When selecting decorative stitches, look for those that are formed only with a forward motion for the best color clarity. If you choose reverse-motion stitches, you can end up with slightly different colors on top of each other as the stitch is formed.
Variegated thread also makes interesting serging stitching lines, whether used as an edge finish or for flatlocking within a garment. Unless both sides show, use the variegated thread only in the upper looper and needle, along with a coordinating solid in the lower looper.

Machine embroidery is a great place to use variegated threads for either subtle or bold shade changes. But, be aware that depending on the thread patterning, you can end up with stripes in your programmed design.
Before committing to a project, be sure to test-stitch with the variegated thread and stitch settings you plan to use to see how the color variations will actually stitch out. Or, better yet, try the same design with different variegated thread types and brands.

A New Twist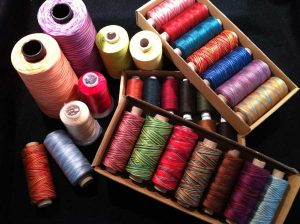 Another type of multi-color thread is twisted thread—two or three plies of different colors twisted together to create a heathery look. Look for analogous color shades (like light blue and dark blue) creating a denim look, or more contrast in colors for bolder effect.
Twist threads are ideal for embroidering animal motifs with fur or feathers, topstitching and decorative stitching where you don't want stripes to be prominent.
Hand Sewing
There are several types of hand-stitching threads available with multi-coloration. Look for embroidery floss and fine wools, as well as multiple sizes of variegated pearl cottons.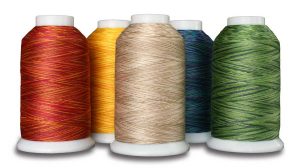 So, add some color changing to your world!
---
~Linda Griepentrog
Linda is the owner of G Wiz Creative Services and she does writing, editing and designing for companies in the sewing, crafting and quilting industries. In addition, she escorts fabric shopping tours to Hong Kong. She lives at the Oregon Coast with her husband Keith, and two dogs, Yohnuh and Abby. Contact her at .