Closing in on the finish line…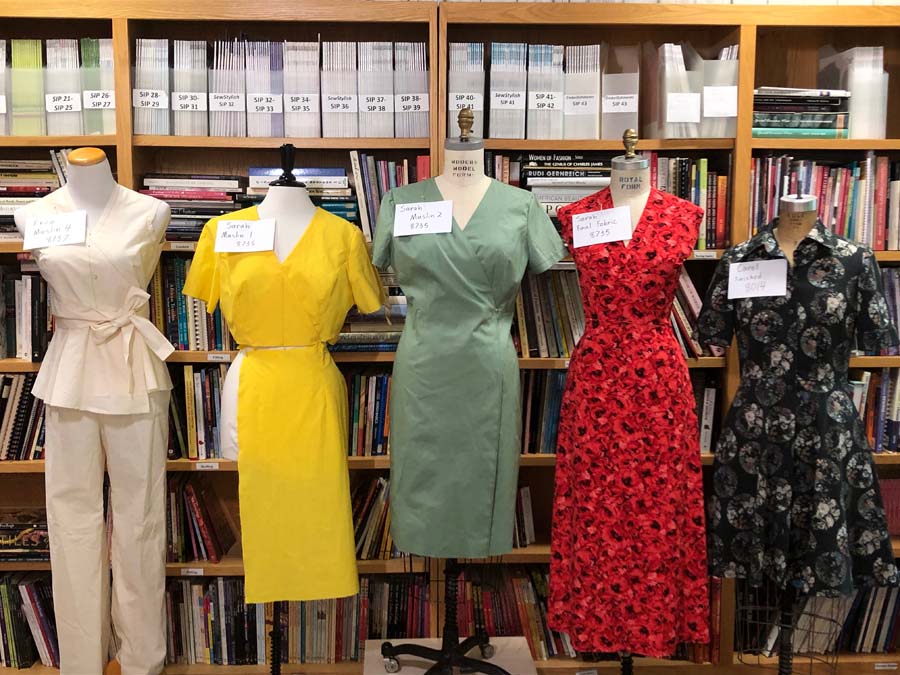 The American Sewing Guild's annual conference starts next week! Conference is August 1 through 4, 2019 in the greater Boston area and the crew at Threads magazine has been diligently working on garments for Wear Your ASG Pattern Day on Friday, August 2. They wanted to share an update and you can also see videos of their monthly progress on Facebook.
---
A final pre-ASG Conference Threads Live event on Facebook is scheduled for 11 a.m. EDT Friday, July 26.
---
Sarah, Threads Editorial Director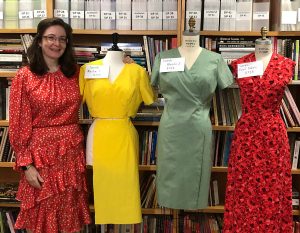 Sarah made two muslins to finalize the fit of ASG Simplicity 8735. She's started constructing her final dress in a stretch crepe knit from Joann's. The finished dress should travel well, and be easy to care for in the future.
This is not the last version of Simplicity 8735 Sarah plans to make. She transferred her fitting adjustments to the pattern pieces for all the views. With long- and short-sleeved versions, different skirt lengths and cuts, and the option to sew the design in knits or wovens, it's a new wardrobe staple.
Sarah's sewing tip
"When I need to add easing stitches to a sleeve cap, I make the stitches in one pass. I stitch 3/8″ from the fabric's edge. At the stopping point, I pivot, stitch to about 3/4″ from the fabric edge, pivot and stitch back toward the starting point, keeping the second stitching row parallel to the first row. I find this saves me a tiny bit of time and I don't need to fuss with additional thread ends or tying knots before I pull the gathering threads."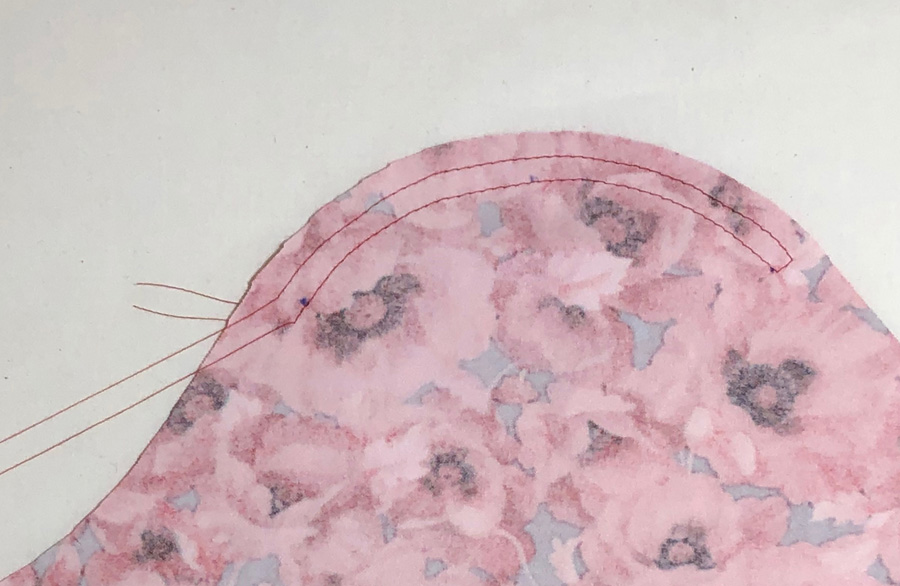 ---
Erica, Threads Assistant Editor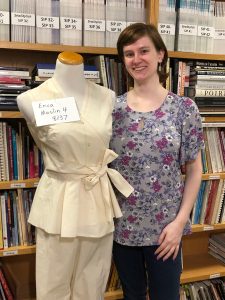 Erica spent many hours and yards of muslin adjusting the fit of ASG Simplicity 8137. After a total of four bodice muslins, she is confident that the peplum top will be comfortable and flattering.
The finished top will be constructed from cotton shirting from StyleMaker Fabrics. The pants required only minor adjustments for length and pant leg width and should drape nicely in a bottomweight Tencel twill, also from StyleMaker Fabrics.
Fitting the top was a great learning experience for Erica, who feels more confident tackling fitted garments going forward. Simplicity 8137 includes dress options as well as the top and pants; since she knows the bodice fits well, a dress is almost certainly in Erica's future.
---
Carol, Threads Senior Technical Editor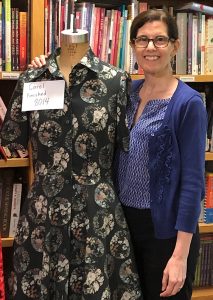 Carol has made two iterations of Simplicity 8014, view B. One is in stretch sateen (shown here), from MoodFabrics.com. The other is in cotton poplin, also from Mood Fabrics.
The shirtdress with a waist seam and flared skirt offers a silhouette she likes to wear, and the pattern has some nice features. The short sleeves are finished with a tuck parallel to the hem, which gives the illusion of a cuff, but is quick to sew and encloses the sleeve hem's raw edges. The dress bodice is shaped with small pleats instead of waist darts for a relaxed look, but you could turn the pleats into darts for a closer fit. All views include generously sized side seam pockets—a must-have at ASG! Although the pattern doesn't call for it, Carol included a facing on the back yoke, to provide a bit more structure there and to enclose the shoulder and yoke seam allowances.
Carol's sewing tip
"The buttons I chose came stapled to a card. When I tried to pull them off, the staple remained in the button. I discovered that sliding the point of a seam ripper (use an old one that's already dull) through the staple, between the button and the card, enabled me to pry off the buttons and leave the staple behind. My fingernails and my small, sharp scissors would like to thank the seam ripper for its service."
---
The Threads team is looking forward to wearing ASG Simplicity patterns to Conference, and had a great time working with these designs. They encourage you to step up and say hello at Conference.
Have you sewn something special for conference? Post it in the Gallery on ThreadsMagazine.com; on Facebook in response to Threads Live videos, or on Instagram with the hashtags #americansewingguild and #threadsmagazine. Happy Sewing!