Whenever I hear those words, every cell in my body goes on high alert. I never know what will follow, but it is rarely good.  "Could you replace this zipper—in my jeans?"  "Could you hem my daughter's prom gown, all six layers with ruffles?"  "Could you make floor to ceiling pinch pleat draperies for my 6 dining room windows by next Friday, just in time for my Christmas party?"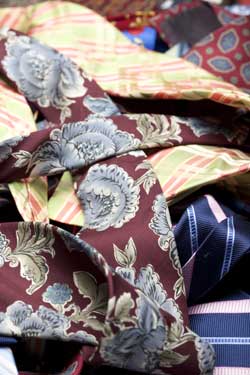 Over the years I have cultivated the ability to say NO to most of these requests, but when a dear friend approached me recently, what she offered was an interesting challenge. She handed me two identical designer ties and asked me to make "something" from them as a gag gift for the wife of a co-worker. She explained that it was a long standing tradition that she gave a designer tie to the co-worker each year for Christmas, and she recently found out that his wife liked the ties so much that she "dressed" him around the ties. Now that he was retiring, it was the wife's turn to get a tie. She left the ties with me. First mistake.
I have seen curtains, vests, skirts, quilts, and other items made from a collection of old ties, but I had never seen anything from just two identical ones. My mind raced with a million practical questions like:
How much fabric could possibly be in a tie?
What could be constructed from something that is only about 4 inches across at the widest point and tapers down from there?
How could I piece these varying narrow strips together and make it look good?
What would be worth my time creating that might be a gag gift, but still be practical enough to use and look good?
"With each question, the level of dread rose steadily. How could I have allowed myself to be sucked into this undertaking? Why did I say yes? Did I even say yes or did she just leave the ties?"
Off to my sewing room I went, armed with two ties and a seam ripper. The deconstruction aspect was not as tiresome as I feared. Actually, it was quite easy, just some hand stitching to undo and remove the designer labels. Oh, but there was a receipt in the bag. The ties had cost $20 each, marked down from $40. That meant that for the two ties, the equivalent of about a quarter yard of fabric, she had paid $40. It didn't take a genius to do the math and come up with an equivalent price of $160 per yard, marked down from $320!  Oh, no pressure! I think it took me about a month before I gathered the courage to make the first cut, and then I did so gingerly for fear of wasting even a tiny inch of fabric and coming up short.
Could I, Should I… Make a Purse?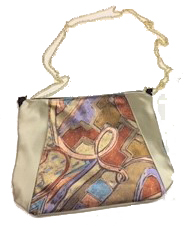 Since I love making purses, I decided to go in that direction. The deconstructed tie yielded a piece of fabric that was 7 ½ inches at its widest point. I took two foundation pieces of fabric and laid the wide points of the ties centered on the foundation. Then I played with the remaining pieces and tried to match the swirls of color on either side of the main sections. Luckily the ties were close enough to being identical that I was able to get both the front and back to look similar. But how could I attach the pieces and make them look attractive and not just patched?
Time for some creativity…
I solved this dilemma by making very narrow piping to place between the sections. It gave the impression of an accent piece and was just enough to divert the eye from seeing that the prints did not match up exactly. And the black made the royal purple of the tie pop.
Once the three sections were stitched to the foundation piece, I gave the bag some shape by rounding the lower corners and making the front and back identical. From there it was easy. I cut a lining from the same black fabric that I had used for the piping, inserted a zipper between the two layers, then seamed around the outside edge, also using the piping to accent. I even made a prairie point accent on the front and sewed a gold button on it to bring a bit more glitz to the project. The handle was created from a piece of jewelry chain that I doubled and twisted together for added strength.
When it was done, I was amazed. It didn't look like two ties thrown together. It looked pretty darn good! The finished bag measured about 9" x 12", and there were still a few scraps left over. Not one to waste fabric (especially at that equivalent $160 per yard) I pieced the remaining sections together to make an eyeglass case and a credit card carrier.
---
Looking for handbag handles for your new bag? Amazon offers wooden handles, leather straps, chain, bamboo, cord, ribbon and more!

---
I was so pleased with the finished item, I took it to every ASG meeting I went to for "Show and Tell."  I was rewarded with not only their "ooohs" and "ahhhhs" but also requests to teach the project. These sewing friends gave me all the encouragement I needed to finally turn the purse over. And my friend was duly impressed. She said she couldn't believe I had made something so large, attractive, and useful from those ties. She no longer thought of it as a gag gift, but rather a truly one of a kind designer purse.
So maybe I shouldn't automatically say no when I hear someone say, "you sew… "  But I am still not replacing zippers in jeans!
ASG Members can access the instructions for making this Necktie Purse by logging in to Member's Only and going to the ASG Online! area (under Education).
---
~Rosemary Fajgier