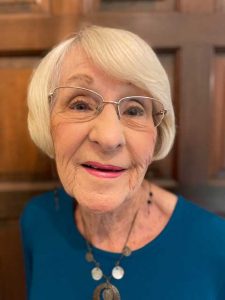 During the summer of 2019, I first heard of JoAnn Krause and began my quest to learn more about this behind-the-scenes sewing icon. You may not recognize the name, but as a sewer, you have probably benefited from some of her pioneering efforts.
The story of JoAnn Krause of JKOriginals, is of a woman whose contribution to the home sewing industry was innovative in the development of educational material, the introduction of serger machines, industry sewing techniques, product resources, and the use of emerging media technology such as VHS-taped lessons. The sheer industriousness and resourcefulness of this woman makes her a giant in the home sewing industry.
Where It Began
Born JoAnn Jascor in Owen, WI in 1937, she grew up in an era when most women made their own clothing as well as that for their families. "My mom was always a sewer. I picked up the talent from her," explained JoAnn. She married Donald Krause in 1962 and soon began a family. Eventually she began to work part-time in the apparel industry for a company called Fashion Services, Inc, owned by Nancy Olson. It was here that JoAnn learned pattern design and grading. "I believe Nancy pioneered multi-sized patterns," JoAnn asserts.
After Nancy moved her business to California, JoAnn decided to strike out on her own. "I started teaching in community education programs in the evenings. I loved teaching because all the students were so eager to learn. Most were middle aged, but I had all ages, even men." She began with lingerie classes, then went to everything from bras and girdles to sportswear and swim suits. The popularity of her classes brought her invitations to go to different school districts, and then came the demand for printed material of the instructions. Along the way she developed patterns for hats and purses using Ultrasuede, as well as ski outfits inspired by her entire family.
Joining ASG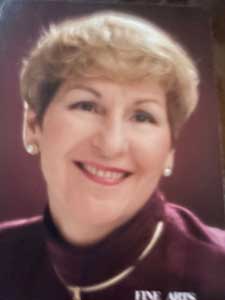 JoAnn became a member of ASG in 1984 after attending the conference in San Francisco "Getting involved with the American Sewing Guild and other sewing expos, I decided I had to upgrade the quality of my manuals. With the help of my husband who was a typesetter; a niece who was a graphic artist; and my very talented sister-in-law, I wrote all the instructions and drew all the illustrations. Because I disliked commercial pattern instructions, all my techniques were taken from the industry… I teach industrial techniques. They're fast and efficient, and are completed by machine for a more professional appearance."
"In all the years of teaching," she reflects, "I had over ten thousand student names on my mailing list. I made all my own garments and samples in the 80s and 90s. I devoted all my time to learning the craft." Sewing wasn't just a business, it was a social network of like-minded folks enjoying time together and learning their craft.
Concerning her use of industry techniques, JoAnn said in an ABC Newspaper article Sew Like a Pro in Half the Time, "When you are making a blouse with a collar, for example, why start with a 5/8″ seam around the neckline? First, you have to staystitch the neck edge so it doesn't stretch. Then you sew the seam. Then you trim and grade it. Why not just sew with a quarter inch seam to begin with? You eliminate all those extra steps. In the industry, they start with quarter-inch seams to save time and money."
Starting JKOriginals
Thus began JKOriginals which consisted of several sewing seminars and ran from 1986 through 1994. The in-person classes covered jackets, blouses, skirts, and pants with easy to follow illustrations and creative ideas on redesigning these basics, as well as lessons on VHS tapes.
Sew For Snow was for an outerwear jacket and pants and featured the new Thinsulated material.
Stretch Your Imagination used a combination of knit and woven fabrics to create a family's entire casual wardrobe. It allowed the student to create numerous styles of tops, pants, shorts, skirts, and jumpsuits from a basic pattern, much like many of the current independent designers are doing today.
By 1990, she was introducing the home sewer to the then new serger and highlighted its features, sewing techniques, and trouble shooting. She also produced a catalog of tools, patterns, and new products that JoAnn considered the best, most unique, and lowest priced items.
JoAnn was firm about her "no handwork" rule and her patterns used industry construction techniques. Her tips highlighted the way fashion trends moved darts, created necklines and collar variations, modified sleeves and lapels, and added pockets and trims.
In a 1990 Sew News article titled "New Again Heirlooms," JoAnn offered a pattern and design inspiration for creating garments from Battenberg lace table cloths and linens. The article became her signature teaching technique during this fashion trend. The JKOriginals brand was known across the United States and into Canada.
JoAnn spent decades teaching and bringing new sewing techniques to the sewing public. When VHS gave way to DVDs, USB sticks, and direct downloads, and typeset publishing yielded to computer desktop published and pdf files, sadly JKOriginals did not transition with technology and the lesson manuals and educational videos are no longer available. Yet, the material is timeless for garment sewers as is her enduring story of the spirit of a sewing entrepreneur.

---
~Kathleen DeMuth