It doesn't matter whether you tailor fine wool jackets or make casual everyday wear, or if you're a quilter—getting a good press is of the utmost importance for a professional-looking project. There are tools to help with that process. Let's take a look at two tools that work for all sewers and quilters—a clapper and a sleeve board.
Clapper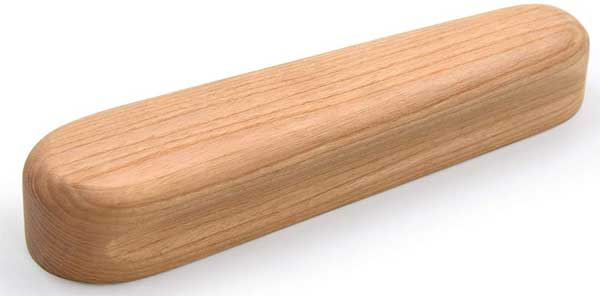 What is it?
A clapper is basically a long block of wood with curved edges. The block may have indentations along the side for easier holding, but the bottom surface if totally flat. Clappers come in different sizes, depending on where they'll be used.
It's important that the clapper is made from hardwood with a heavy, closed grain so that it holds heat and steam in whatever you're trying to press beneath it. Maple is a common wood used for clappers. All clappers should be unfinished wood, to avoid transferring any oils or finishes to the fabrics below.
What is it for?
Fashion sewers and quilters use a clapper to flatten and compress seams, creases and hems. It's helpful for flattening edges, like tailored collars on jackets and cuffs. Some people use a clapper to create precise creases in pant legs. Quilters use clappers to help flatten seams, whether pressed open or to one side, and to make sharp seam edges in foundation piecing projects.
How does it work?
A clapper is used in conjunction with an iron, either steam or dry. If you're using a dry iron, spray the area with water to moisten it before pressing and clappering.
Once the area is pressed with the iron and infused with steam, press the clapper down on top of the area to trap the moisture in the area until it cools. Apply pressure if you're pressing a thick edge like a collar, lapel or cuff.
Sleeve Board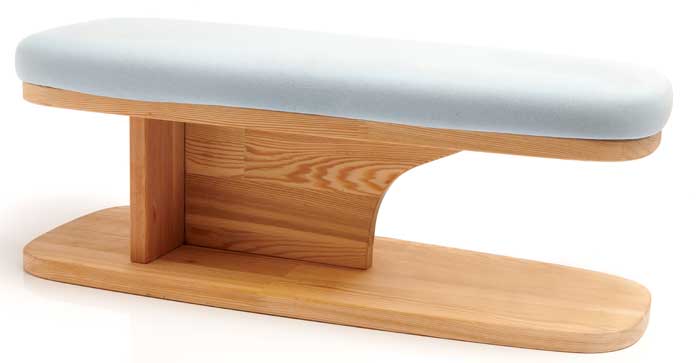 What is it?
A sleeve board is basically a small wooden ironing board, usually with padding on the upper surface. The wooden base usually isn't padded, but provides an optional pressing surface should a harder surface be needed.
Some sleeve boards have metal grids under the upper padding and some have metal legs instead of being reversible flat surfaces.
What is it for?
The name doesn't say it all, but it does note its original purpose—pressing sleeves, without getting extra creases where you don't want them. But, it's also handy for pressing pant legs and other tubular type sewing projects where you don't want additional creases added to the area. For crafters, a sleeve board is handy for pressing wine bags or other narrow drawstring type bags where accessing seams can be challenging.
A sleeve board can also be used for any pressing task where a full-size ironing board might not be needed—like pressing doll clothes, or quilt blocks.
How does it work?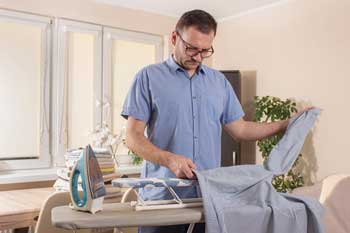 Sleeve board sizes vary depending on the manufacturer, and the size of the pressing surface obviously affects what can fit over it. But all sleeve boards have at least one end tapered so that it's narrower than the opposite end attached to the base.
To use the sleeve board, simply slide the sewn tubular shape over the narrow end of the board and onto the padded pressing surface.
A sleeve can actually be pulled over the smaller curved end to lightly press the cap area during construction.
If you're sewing with limited space, like at a retreat, a sleeve board can be used as your personal tabletop ironing board to save time waiting in line for the main ironing board.
---
~Linda Griepentrog
Linda is the owner of G Wiz Creative Services and she does writing, editing and designing for companies in the sewing, crafting and quilting industries. In addition, she escorts fabric shopping tours to Hong Kong. She lives at the Oregon Coast with her husband Keith, and two dogs, Yohnuh and Abby. Contact her at .