This article is Part 2 of the Fabric Sources: Living Things series
Plants (part 1) | Plants (part 2)
Living Things: Silk | Living Things: Wool | Other Living Things
Minerals: Acrylics, Polyester, & Nylon (part 1) | Minerals: Spandex and Rayon (part 2)
There are other fabrics we haven't yet covered that are usually not considered to be part of the silk or wool family. These include fiber from animals such as llamas, camels, yak, and even possums. These fibers are usually more available in yarns and roving than fabric so it is unlikely you will be adding these to your stash, but you may find them interesting nonetheless.
---
Llamas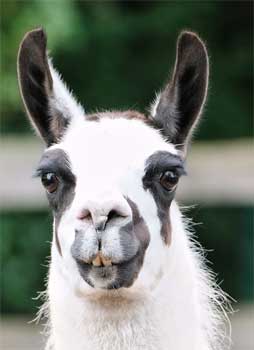 Llamas, part of the camel family, are typically found in South America. Their fine undercoat is typically used for garments, while the courser outer hairs are more commonly used in rugs, wall hangings, and ropes. Llama fiber is normally available in white, black, grey, brown as well as reddish-brown colors.
How is it processed
Llama hair is harvested by shearing, clipping, or brushing. The first step involves cleaning the Llama's hair. Some do this by blowing the debris out of the hair with something like a leaf blower; some brush them with a wire brush (much like a dog brush); and some just give the llama a good bathing. Once cleaned, the animal is ready to have its hair removed. Shearing and clipping are faster and generate a higher yield than brushing, but brushing will result in the highest quality of llama fiber, leaving more of the courser hairs behind. The hairs are then ready to be spun, washed, and woven into fabric.
Watch this 6-minute video and hear 4 different llama farmers talk about raising and processing their llama fibers into various uses.
Pros
Llama fibers are very similar to alpaca wool and are lightweight, strong, durable, lanolin-free, and hypoallergenic but not as fine as alpaca fibers. It is also naturally absorbent, flame retardant, and stain-resistant.
Cons
Because llama fibers don't have good "memory," the fabric will stretch over time. For this reason, it is quite often blended with another fiber, like sheep's wool. Finding llama fabric is very difficult and is far more often found as yarn for knitting/crochet or as roving for felting and spinning.
Impact on the animals
As with most shorn animals, handling of the animals during this process is key. The process can be stressful to the animal if they are not treated with gentleness.
Where can I buy it?
Many places sell llama yarn and roving. Check your local quality yarn and fiber shop and if you are ambitious, weave some fabric of your own!
---
Camels
The
of Mongolia give the softest of camel hairs. China, Afghanistan, and Iran produce the most camel fibers in the world. Although most camel hair is left as its natural tone of golden tan, the hair can be dyed and accepts dye in the same way as wool fibers. Camel hair may be blended to create fabrics suitable for coats, outer sweaters, and underwear.
How is it processed
Camel hair is gathered in the Spring when they shed naturally during the 6-8 week molting season.  The fine, soft undercoat hairs are separated from coarse hairs. Coarse guard outer coat hairs are not suitable for weaving fabric but can be used for ropes and strong yarn. The finer hairs are washed to ensure they do not contain any dirt or debris and that any remaining coarse hair and dandruff is removed. From there, the hairs are carded and spun into yarn that can be used for weaving or knitting.
This video about camel fiber focuses on yarn but gives a great overview of the process.
Pros
Camel fabric is very warm and not prone to stretching or pilling. The product is durable yet very soft—nearly as soft as cashmere—and is often blended with cashmere to make luxury garments.
Cons
Since camel hair is seldom processed in factory settings, it can be quite expensive. Viewed as a luxury textile, it's on par with other luxury wools like mohair and cashmere in terms of price.
Impact on the animals
The chances of animal cruelty occurring during camel wool harvesting are significantly limited. Since the camel naturally sheds its hair every year, it is unnecessary to restrain these animals during the fiber harvesting process.
Where can I buy it?
As with most of the luxury fabrics covered in this article, you are unlikely to find camel fabric outside an upscale fabric shop.  Here are two who do stock this fabric.
---
Yak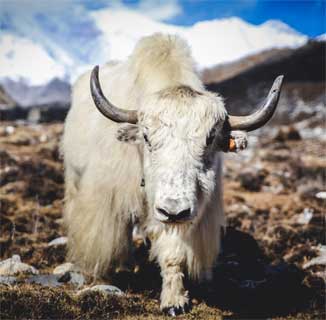 Yaks are largely found in the Himalayas in India and Tibet. The hair of the yak is very useful in the production of warm clothes, mats, and sacks due to its warmth and strength.  Yak fiber wool has been used by nomads in the Trans-Himalayan region for over a thousand years to make clothing, tents, ropes, and blankets. More recently, the fiber started being used in the garment industry to produce premium-priced clothing and accessories
How is it processed
Yak hair is collected in the Spring when they naturally shed their coats and is usually done by plucking or combing. The harvested hair is sorted by color and quality, then de-haired and washed.  The sorted pure, fine down hair is dried, carded, and spun into yarn than can be used for knitting or weaving fabric. This 3-minbute video will give you insight into yak life and harvest.
Pros
Yak wool has similar properties to other animal fibers but has been proven to outperform sheep wool in warmth, softness, breathability, and odor-resistance. Its exotic nature and favorable performance characteristics make it an attractive alternative to cashmere.
Cons
Yak hair is not very receptive to dying, thus is usually left in its natural color.
Impact on the animals
The yak, a sacred animal in Tibet, is left free in its natural habitat where it lives until it dies from natural causes. Their spontaneous fur loss releases quite easily with brushing. They might squirm some when getting a good brushing, but it's not harming them, and they will also be better off when all the loose fiber gets removed.
Where can I buy it?
Yak fabric is very difficult to find, but we can share one shop with a yak blend fabric. Finding yak yarn and roving or shawls and scarves is most likely so if you really want to sew with yak fabric, you might have to weave your own!
---
Possum (phalanger)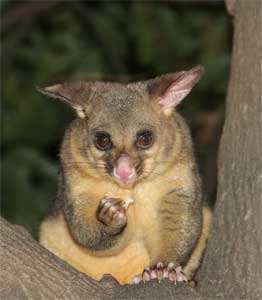 Brushtail possums are harvested under permit, and their soft pelts are plucked, shipped, spun and knitted into high-quality Australian apparel. There are tight regulatory controls over the harvest to ensure the possums were harvested correctly. It is commonly combined with other fibers, frequently Merino wool. When used to create Possum Merino knitwear, the combination of possum in the fabric leads to very lightweight garments. According to some sources, possum fur is 8% warmer and 14% lighter than wool.
How is it processed
The possum is New Zealand's biggest ecological threat and they are legally classified as pests. As such, they are hunted and the hair is collected, often by a machine that dehairs the carcass.  From there, it's processed much like other animal hairs – washed, carded, spun, and woven.
To get a glimpse of the process of preparing the collected hair for weaving, watch this 3-minute video:
Pros
Opossum fiber is incredibly soft, breathable, odor-resistant and doesn't pill.
Cons
It is very difficult to source and thus, very expensive.
Impact on the animals
While the impact on the opossum is that it takes their life, due to the threat they pose to the New Zealand environment, the International Fur Trade Federation defines possum fabric as ethically sound. This is one reason the possum/merino mix has been seen on the catwalks of Paris.
Where can I buy it?
We are unable to find a source for possum fabric, though there are a few products at fashion retailers, such as McDonald of New Zealand.
---
~Sheryl Belson